How to Recognize Parallel and Perpendicular Lines
There's an easy way to tell whether two lines are parallel or perpendicular to each other in a graph — if you can determine the coordinates of some points on the lines: the lines are parallel if they have the same slope, and they are perpendicular if their slopes are negative reciprocals of one another. Being negative reciprocals, means that when you multiply the slopes, you get –1.
One line has a positive slope; the other has a negative slope.
Consider the following slopes of some lines or line segments:

The slopes of the lines that are parallel to one another are
The slopes of lines that are perpendicular to one another are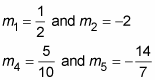 As a matter of fact, because the lines with slopes of 1/2 and 5/10 are equal to one another, they're both perpendicular to the lines with slopes of –2 and –14/7, which are also equal in slope. It's one big, happy family.