How to Put Together an Income Statement
Your income statement is an essential part of your written business plan. The income statement calculates your net profit, or bottom line, using this basic formula:
Net profit = Revenue x Costs
The outcome of this calculation gives a measurement of how your company performed financially over a certain time period. The IRS, of course, is interested in your income statement for the taxable year. Seasonal businesses — such as winter ski resorts or summer river-rafting operations as a few examples —view statements quarterly, and many other businesses run reports monthly to keep tabs on their bottom line.
The figure shows that after Broad Street Emporium paid its taxes for the year, the business was left with a net profit of $92,000. That's good news because it amounts to a 21 percent increase over the previous year.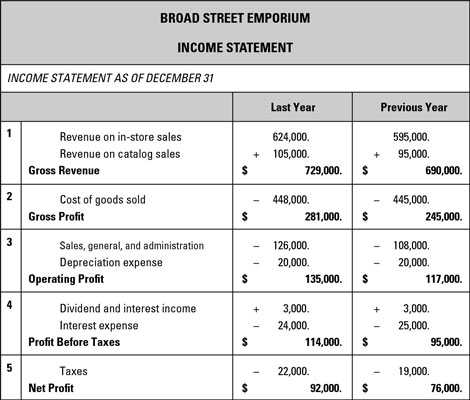 To develop an income statement for your company, use a form like this one. If your business isn't up and running yet, use the template to project what you expect in terms of revenues and expenses. Doing so serves as a good basis when you prepare your new business budget.
If you use accounting or financial software to do much of the work for you, you can skip this form. If so, at least print your most recent income statement and look it over carefully. Make sure you understand each entry and are convinced that your overall financial picture makes sense.
Don't let your software program do all the number crunching for you. In the end, be sure you know what all the numbers mean and what they say about the financial health of your company.
If your venture is up and running, include statements for the last year or two for comparison purposes. Also include income statement projections — whether yours is an existing business or a start-up. Show your income plans for a year or two, or even up to five years into the future.