How to Pay for Your Etsy Purchase
After you add an item to your Etsy shopping cart, you have to decide how to pay for your purchase. Etsy offers PayPal, credit card, money order, check, or other as payment options. If you chose to pay with PayPal, a PayPal window opens and you can log in to your PayPal account.
If your shopping cart contains items from multiple shops, you must pay each seller individually. You have to complete the checkout process for each shop separately.
After you log in to your PayPal account, a Review Your Information page opens.
Verify your shipping address.

To change the address, click the Change link and choose from the list of alternate addresses that appears. To add a new address, click the Add a New Address link and follow the onscreen instructions.

Choose your method of funding.

Review your information and click Continue.

PayPal returns you to the Etsy site. To find out how to submit your order, read on.
Don't have a PayPal account? Don't worry. Setting one up is as easy as pie. You can even do it from Etsy during the checkout process. Simply choose PayPal as your payment method and click the Check Out with PayPal button. When you're prompted to pay, follow the onscreen instructions to register for a PayPal account.
Note that, in some cases, you may also be able to use PayPal to pay for your purchase with a credit card, even if you don't have a PayPal account. To do so, again choose PayPal as your payment method and click the Check Out with PayPal button. Then when you're prompted to pay, click the Continue Checkout link on the left side of the page. Enter your contact and credit card info; decline when asked whether you want to create a PayPal account.
If you opted to pay via check, money order, or "other" (say, magic beans), you'll want to convo the seller to make the appropriate arrangements.
Before you submit your order, take a moment to review the order summary.
If the shipping address shown isn't correct, click the Change Shipping Address link, click your preferred address in the list that appears, and click Continue. If the address you want doesn't appear in the list, click the Ship to a New Address option button and enter the address in the fields that appear.

If something related to your payment details is out of order, simply click the Back button on your browser to return to the Shopping Cart page and choose the desired payment option.
If all the order details are error-free, click the Submit Order button to submit your order. In addition to displaying a special confirmation screen, Etsy e-mails you to confirm your order. All you have left to do is install yourself in the proximity of your mailbox until your item arrives.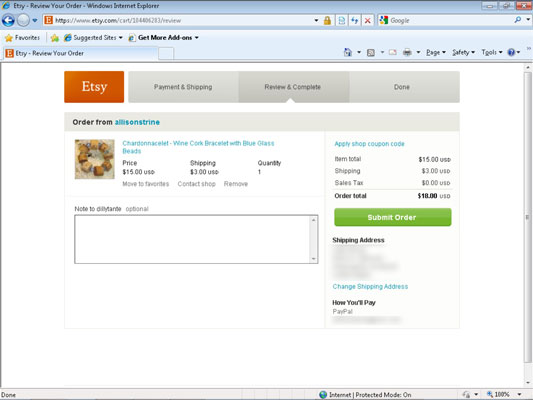 As you wait for your purchase to arrive, if you need to review your order information, simply sign in to your Etsy account, click the Your Account link along the top of any Etsy page, click Purchases, and click the item's invoice to view it. Note that the invoice includes the seller's e-mail address, in case you need to contact her. You can also contact the seller by clicking the Contact link in the invoice.