How to Navigate Your Facebook Timeline
Your Facebook timeline is more than just a bunch of information. It's an ongoing, ever-evolving story about you. Your timeline is your ongoing autobiography with a complete multimedia presentation, pulling together your words, your photos, your friends' thoughts, and your postings. The timeline has a few different portions: the at-a-glance section running across the bulk of the screen at the top of the page, the navigational markers to the very right of this, the Share menu or Publisher just below, and the timeline itself, extending from the present back and back and back to the day you were born.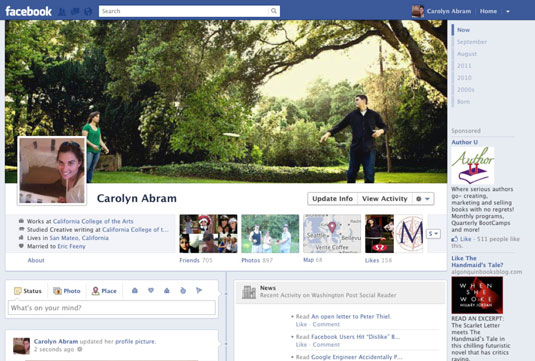 The timeline has these parts.
Photos: The first impression of any timeline is the two photos that greet you when you first arrive. The big background one is called the cover photo. The second, smaller photo is your actual profile photo. This smaller photo appears on Facebook anywhere your name is: places you comment on posts or where your posts are shared.

At-a-Glance Info: Your profile photo actually which includes your Name, info about where you work and live, where you went to school, and who you're in a relationship with (assuming you choose to share these facts).

The Share menu: Just below the At-a-Glance Info section, on the left side of the screen, is the Share menu. This is what you use to post content such as statuses, photos, and more to your timeline (and to your friends' News Feeds). It's also how you add events to your timeline that you want to commemorate.

The thin blue line: The true meat of your timeline is the line itself. Scrolling down reveals an extended blue line that starts in the present, and if you keep scrolling, it goes all the way back to your birth. At various points in time, bullets call out significant events, statuses, photos, or actions you took on Facebook. This line tells your story.

Jumping around in time: To the right of your cover photo is a condensed timeline, which allows you to jump to any point in time you wish to see just by clicking it. More recent time is shown more specifically, so you can choose a month or two ago, or choose a decade and then drill down to the year you want to peruse. Jumping around becomes important as you build out your history on your timeline.