How to Navigate WordPress.com
When you successfully log in to your new account from the main WordPress home page, WordPress returns you to the main WordPress website — where you see a slightly different display on the home page — a tabbed navigation menu. The navigation menu contains shortcut links to some important areas of interest:
New Post: Click this tab to write and publish a post on your WordPress blog. The WordPress Dashboard, covered in the next section of this chapter, has the full post interface; however, this part of the WordPress home page provides you with a quick way to publish a quick post.

Reader: Click this tab to discover new posts and updates from the WordPress.com blogs that you follow.

Notifications: Under this tab, you find updates from blogs that you subscribe to in the WordPress.com network, as well as discussions and comments that you subscribe to.

Stats: Click this tab to view the statistics of your WordPress blog in graphical format. At a glance, discover who is visiting your blog and where they are coming from.

My Blog: This tab displays quick access links to blogs that you own within the WordPress network.

Freshly Pressed: Click this tab and discover the latest posts from bloggers within the WordPress.com network.
You find the same links when you hold your mouse pointer over the small WordPress logo displayed at the top left of your browser window. The links appear in a drop-down menu for easy access.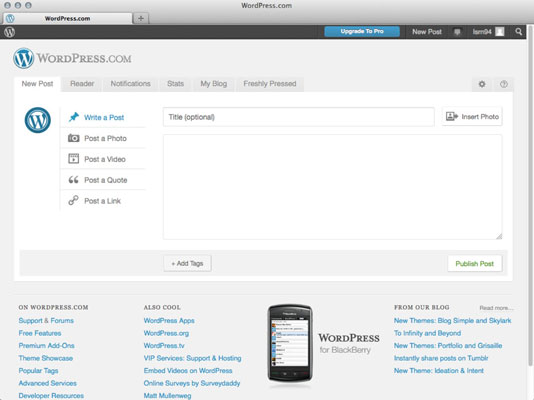 Quick access links to important areas of your WordPress Dashboard appear after you log in to your WordPress account. You see a bar at the very top of your browser window, on the right side. This bar also appears at the top of any WordPress blog you surf to, as long as you are logged in to your WordPress account.
This menu bar consists of several helpful quick links for you to access your account, your Dashboard, and various options.
Hover your mouse over your username at the top right of your browser and you see the following links in a drop-down menu:
Your name: Click this to visit Account Settings where you can edit your own user profile, password, e-mail address, and applications (or third-party applications such as Twitter or Facebook).

Find Friends: Click this link to visit the Find Friends page where you can locate your friends in other networks such as Twitter, Facebook, and Google Plus. You can also find friends and/or blogs within the network by using the Recommended Blogs link, or explore the topics to find blogs of interest to you.

Manage My Blogs: This takes you to the My Blogs page on your WordPress Dashboard where you see a list of all the blogs you own; WordPress allows you to operate more than one blog in its network.

Help: Click this link to visit the support area of WordPress.com where you can find helpful articles and tutorials on using your WordPress account.