How to Navigate the Edit Full Mode in Photoshop Elements 9
Edit Full mode in Photoshop Elements offers bundles of tools that you can use to edit your images, from correction tools for fixing color and clarity to filters, layers, and more for changing existing photos or creating entirely original images from scratch.
You can move into Edit Full mode in Photoshop Elements in a couple of ways:
From the initial Welcome screen: Click the Edit button and open an image file. Your Elements window appears in Edit Full mode.

From the Organizer: Click a photo and choose Edit Photos from the Fix drop-down menu. The selected file opens in Edit Full mode.
You can also open a contextual menu on a photo in the Organizer (right-click to make this menu appear) and choose Edit with Photoshop Elements from the menu.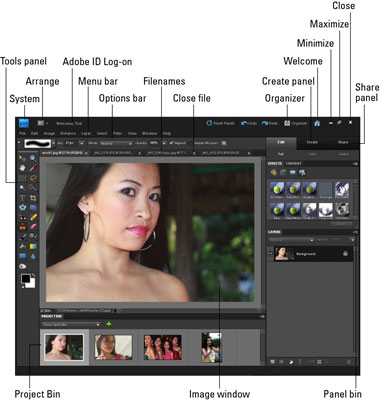 The Photoshop Elements workspace with files open in Edit Full mode.