How to Navigate Facebook's News Feed
The Facebook News Feed is the centerpiece of your Home page. When you log in to Facebook, you see the familiar blue bar and left menu, but mostly you see News Feed. So what is News Feed? It's primarily a collection of stories by and about your friends. Often your news feed will contain a status post from a friend.

Even in this tiny example, there are six significant parts of the story:
Name and timeline picture: The first part of any story is who it's about or who wrote it. The name is in blue. This means the person's name is an active link. If you click it, you'll go to their timeline.

Content: Depending on the content, this might be a preview of an article, or a video, or a photo album. It could also be a location where someone has checked in, or marked their location via GPS, using their phone. The content is the part of the story that is the most important.

Like and Comment: These links allow you to interact with your friends about the content they've posted. In addition, you can see how many people have already Liked this post, and you can click the link or the word bubble icon to see what people have said about it.

Timestamp: The little gray text to the right of Like and Comment tells you how long ago this post was added.

Privacy Info: The gray icon next to the timestamp represents whether your friend has shared this post with everyone (Public), just friends (Friends), or some other group of people (Custom). Hover over the icon to see who else can see it.

Other Links (not shown): In addition to Like and Comment, many stories have specific links. For example, posts with articles in them will have links enabling you to Share them. Stories about one friend writing on another friend's timeline give you a link to see the Friendship Page about those two people.
If News Feed is like a newspaper centered around you and your friends, ticker stories are similar to headlines — brief, impactful text that conveys a story's subject matter and entices you to read further (or skip to the funnies). Together, News Feed and ticker posts provide you with a complete picture of what's going on in your friends' lives.
Ticker updates about your friends' activities are posted in real-time, allowing for more shared experiences between you and your friends. Social apps from companies, such as the video service Hulu or newspaper The Wall Street Journal, make the ticker your destination for learning which films, TV shows, albums, and articles your friends are watching, listening to, and reading at this very moment. Join in on the activities that interest you by clicking a post to see its full version containing the familiar Comment and Like options.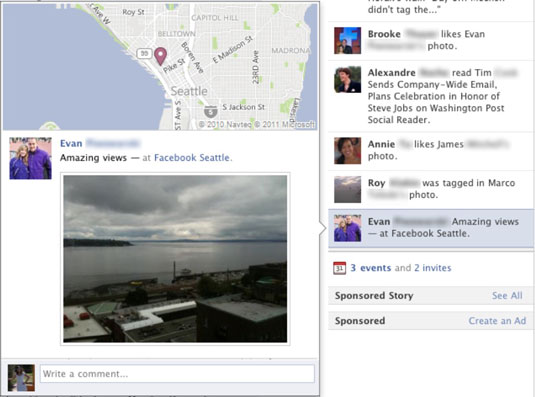 Clicking an active link for a song, video, or article opens that piece of content within Facebook, eliminating the extra time it takes for another site to load in your browser.
If your computer has a wide screen, you can drag your browser window to its maximum width, which should move the ticker and chat sidebar to the far right of the page. (It will remain in place while you visit other areas of the site, such as Groups or Events.) Once it's in the proper location, grab the gray bar between the ticker and chat sidebar and drag it up or down to adjust the number of ticket stories you see at one time.