How to Navigate Around LinkedIn
Navigating around LinkedIn is easy. After you log on to your LinkedIn account, you see your personal LinkedIn home page. The top navigation bar is an important navigational feature of your LinkedIn pages and includes the following links:
Home: Links to your personal LinkedIn home page

Profile: Links to the profile and Recommendations part of LinkedIn

Contacts: Links to view your connections on LinkedIn or add/import new connections

Groups: Links to the different LinkedIn Groups you belong to or administer on LinkedIn

Jobs: Links to the different job searches and postings you can do on LinkedIn

Inbox: Links to read or manage your LinkedIn messages

Companies: Links to search LinkedIn Company Pages or keep track of companies you can follow using LinkedIn

More: Links to the rest of the LinkedIn functions, such as LinkedIn Answers and the Application Directory
When you roll your mouse next to any of these words, you can see the various options within each section, like the Profile options.
Roll your mouse over each menu element to see options for each section.
If you simply click the word, like Profile or Jobs, you're taken to the main page for that section. You can also click the Advanced link to the right of the top navigation bar and Search box to bring up an Advanced People Search, or you can click the drop-down list before the Search box to search for Jobs or Answers from any page on the site. If you already changed the search criteria to another function, like Jobs or Answers, clicking the Advanced link brings up the appropriate search page.
If you ever need to update any aspect of your LinkedIn account, go to the Account & Settings page.
At the Account & Settings page, you first see the settings for your particular account level, especially if you have a premium account.
Profile Settings: Update any part of your profile, add a profile photo, change your status and public profile settings, and manage your Recommendations.

Personal Information: Update personal information that LinkedIn has on file for you, including name, location, e-mail addresses, and passwords. This section also contains the link for closing your LinkedIn account permanently.

Email Notifications: Set how you receive various communications from other LinkedIn members, such as Introductions, InMail, Invitations to Connect, and OpenLink messages, if applicable.
Scroll down to see all the different settings you can update for your LinkedIn account.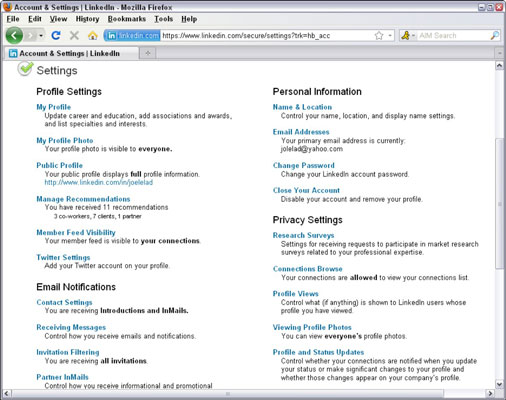 The categories you can access from this page are
Privacy Settings: Set how much of your profile is accessible by your contacts, and also how much information you want to make available to your network in terms of profile or status updates.

Home Page Settings: Set how Network Updates and News articles are displayed on your LinkedIn home page.

RSS Settings: Enable RSS feeds, which is a collection of any updates you make to your profile that you can subscribe to and read without visiting LinkedIn.

Groups: Update settings for your memberships with different LinkedIn Groups. You won't see this category until you join at least one group.

My Network: Update settings that tell LinkedIn how you plan to use the site. LinkedIn uses this information to customize the messages you see when using the site to help fit with your stated goals.
You can always find a link to this page at the top right of any page within LinkedIn by rolling your mouse over your name, and then clicking the Settings link.