How to Manage LinkedIn Recommendations You've Received
Every time you receive a Recommendation from a LinkedIn contact, a message shows up in your LinkedIn Inbox. When you receive a Recommendation, LinkedIn offers you these options for managing it: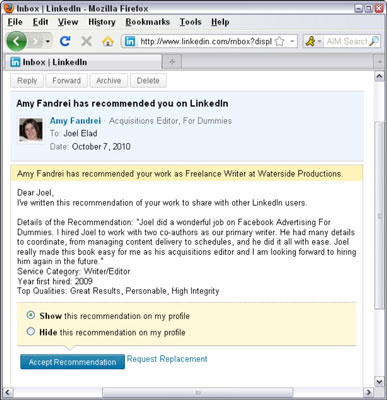 *Accept and show it on your profile. Click the Accept Recommendation button but also make sure the Show This Recommendation on My Profile option is selected.

*Accept and hide it. You might choose this option if you don't want to decline the person's Recommendation, but for some reason you don't want to display it.

*Request replacement. If you aren't completely happy with his Recommendation, click the Request Replacement link to be given the opportunity to send him a brief note explaining what you would like changed.

*Archive it. This removes the Recommendation message from your LinkedIn Inbox. It is available for later retrieval, just not as easily as if you choose the Hide option. You simply have to click the Show Archived Messages link when looking at your LinkedIn Inbox for Recommendations.
To remove a Recommendation you've received or to request a revision, here's what you do:
1.Roll your mouse over the Profile link from the top navigation bar, and then choose Recommendations from the menu that appears.

2.Scroll down to the position the Recommendation is for and click the Manage link.

Doing so takes you to the Manage Received Recommendations page.

3.To remove a Recommendation, deselect the Show check box. Then scroll down and click the Save Changes button to hide your Recommendation.

To request a new or revised Recommendation, click the Request a New or Revised Recommendation From Name link.

This takes you back to the Request Recommendation screen, where you should write a brief note explaining why you're requesting a change.

Click Send.
Negotiating the social graces around Recommendations might feel a little awkward at first, but you'll quickly become comfortable with a little practice. By both giving and receiving good Recommendations, you'll build your public reputation, increase your social capital with your connections, and have a good excuse for renewing some of your relationships with people you haven't contacted recently.