How to Locate Addresses on an Android Phone
The Maps app on an Android phone can help you find places in the real world, just as the Browser app helps you find places on the Internet. Both operations work basically the same way:
Open the Maps app and press the Search soft button. You can type a variety of terms into the Search box.
Looking for a specific address in Maps for Android
To locate an address, type it into the Search box; for example:
1600 Pennsylvania Ave., Washington, D.C. 20006
Touch the Search button to the right of the Search box, and that location is then shown on the map. The next step is getting directions.
You don't need to type the entire address. Oftentimes, all you need is the street number and street name and then either the city name or zip code.

If you omit the city name or zip code, the Maps app looks for the closest matching address near your current location.
Finding a business, restaurant, or point of interest with Maps for Android
You may not know an address, but you know when you crave sushi or Hungarian or perhaps the exotic flavors of Suriname. Maybe you need a hotel or a gas station, or you have to find a place that fixes dentures. To find a business entity or a point of interest, type its name in the Search box; for example:
movie theater
This command flags movie theaters on the current Maps screen or nearby.
Specify your current location to find locations near you. Otherwise, the Maps app looks for places near the area you see on the screen.
Or you can be specific and look for businesses near a certain location by specifying the city name, district, or zip code, such as
sushi 92123
After typing this command and touching the Search button, you see a smattering of coffee huts and restaurants found in a neighborhood in San Diego.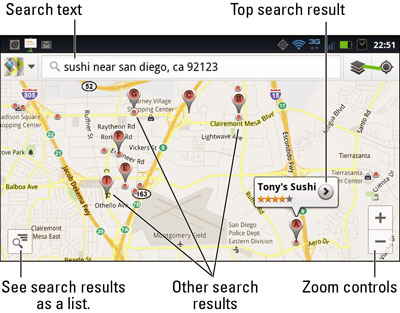 To see more information about a result, touch its cartoon bubble, such as the one for Tony's Sushi. The screen that appears offers more information, and perhaps even a web address and phone number. You can touch the Get Directions button to get directions.
Every letter or dot on the screen represents a search result.

Use the zoom controls or spread your fingers to zoom in to the map.

You can create a contact for the location, storing it as a part of your Contacts list: After touching the location balloon, scroll down the information screen and choose the command Add As a Contact. The contact is created using data that's known about the business, including its location and phone number and even a web page address ¯ if that information is available.