How to Knit a Longways Multiyarn Stole
This multiyarn stole lets a collection of beautiful yarns do the work for you — the knitting could hardly be simpler, yet the resulting multiyarn stole is stunning. (A stole is like a giant scarf that you use to wrap around your arms and shoulders.)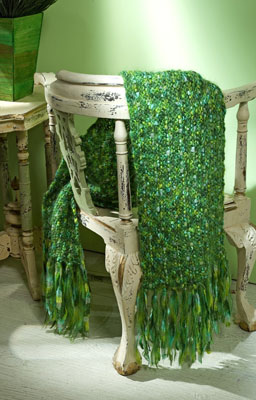 Credit: Photograph by Mark Madden/Kreber
Here are this project's materials and vital statistics:
Knit your longways multiyarn stole:
With yarn B (the thick and thin wool), cast on 130 sts loosely.

Knit 1 row. Cut yarn B.

Follow this stitch pattern:

Rows 1 and 2: Join yarn A (the mohair) and knit 2 rows. Don't cut yarn A.

Rows 3 and 4: Join yarn C (the ribbon) and knit 2 rows. Cut yarn C.

Rows 5 and 6: Knit 2 rows with yarn A. Don't cut yarn A.

Rows 7 and 8: Join yarn B and knit 2 rows. Cut yarn B.

Repeat these 8 rows until your stole measures approximately 16 inches (40 centimeters), ending with Row 7.

Bind off loosely with yarn B.

Weave in any loose ends.

Cut 18 20-inch (50-centimeter) pieces each from yarn B and yarn C.

Cut 36 20-inch (50-centimeter) pieces from yarn A.

Divide the pieces of fringe into 18 groups with 2 strands of A, 1 strand of B, and 1 strand of C in each group.

Stick your crochet hook through the edge of the work from the wrong side to the right side.

Position your fringe every 2 inches (5 centimeters) along each short side of the stole.

Grab the center of the length of fringe with the hook, and then pull through a loop of yarn about 1 inch (2.5 centimeters) long.

Using your fingers or the crochet hook, pull the tails of the fringe through the loop and give them a gentle tug to secure them.

Repeat Steps 9 through 11 for all 18 pieces of fringe.

If you like, use scissors to give the ends of your fringe a trim.