How to Interpret Your Business's Facebook Page Analytics with Insights
Understanding your business's Facebook Page analytics is key to being a successful Facebook marketer, and Facebook's Insights suite of tools can help you do just that. Facebook has such rich data on its users that you can find out quite a lot through Facebook Insights for your Page.
You (as a Page admin) can access your Insights Dashboard. If you manage more than one Page, click the corresponding tab on the left navigation bar to view the Page Insights for that particular Page.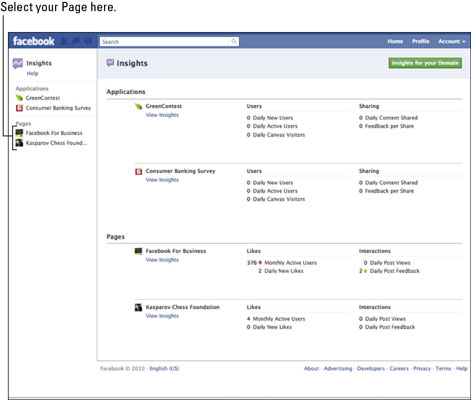 You can also access your Page Insights directly via your Page. Facebook includes an Insights section in the left column, just below your Page's Information section. You can see a brief overview of your stats, including Monthly Active Users, Daily New Likes, Daily Post Views, and Daily Post Feedback simply by visiting your Page. Click the See All link at the top of the Insights section to access your complete analytics.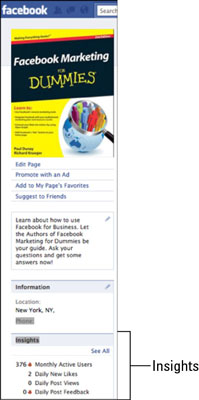 Facebook Insights for Pages focuses on two key areas: your fans and your interactions, such as when users comment, like your Page, or write on your Wall. Insights allows you to drill deeper into each area, shedding more light into your Page's performance.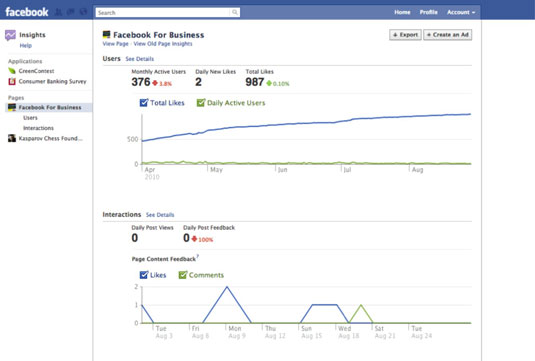 Facebook Page Insights Users page
The first section of Facebook Insights focuses on your users. To access more detailed information on your users, click the Users tab in the left navigation bar. The initial chart you're presented with shows the total Monthly Active Users, Daily New Likes, and Total Likes. You can also see how your numbers have increased or decreased over the past three weeks or so.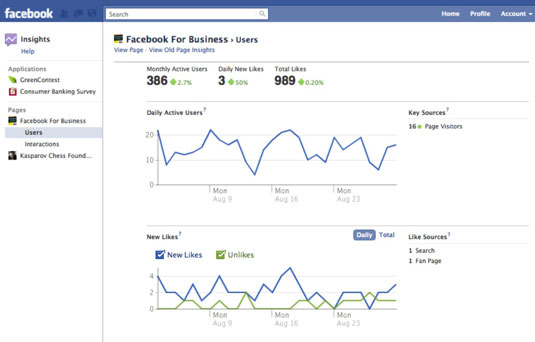 The New Likes chart shows daily new likes and unlikes.

If you click the Total tab on this chart, you see total likes and users who have hidden your Page from appearing in their News Feeds.
When you dig deeper into the users' data, things get interesting. By looking at a daily account of unlikes and how many fans have hidden your updates, you get a sense of how well your content resonates with your fans. If you see an unusually large number of unlikes or fans who hide your updates on a particular day, your content may be turning them away for some reason. Likewise, if you see a spike in likes on a particular day, look to repeat your success.
Insights also reveals demographic data about your fans, such as gender, age, and location (country and city), on the Demographics chart of your Users page.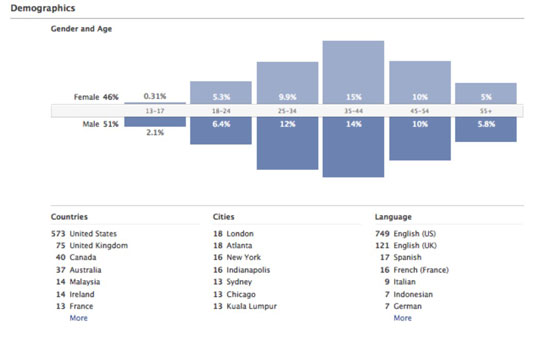 If you see that your audience trends to older users, tailor your content and advertising (if you use Facebook Ads) to this audience. Likewise, if your Page strikes a chord with an audience from a particular country, think about delivering content that specifically appeals to this region of the world. After all, Facebook has a global audience.
Facebook Page Insights Interactions page
The second part of Insights focuses on interactions, detailing how many times users like, comment, and post on your wall. The goal is to grow these numbers on a consistent basis.
Click the See Details link to the right of the Interactions heading on your Insights Dashboard to go to a page featuring two charts:
Daily Story Feedback: How users interact with your content daily. They can like your Page (Likes), make a comment on your post (Comments), or unsubscribe (Unsubscribes) from receiving your updates in their News Feed.

Pay close attention to the number of unsubscribers because this metric speaks directly to the content you publish to your Page. If you notice a spiking trend in unsubscribers, reevaluate your content strategy and change direction.

Daily Page Activity: Ways that your fans — the people who like your Page — engage with your Page in other ways, such as mentioning your Page on their Wall (Mentions), contributing in your discussion area (Discussion Posts), writing a review on Pages that have a Reviews tab (Reviews), updating to your Page's Wall (Wall Posts), or posting a photo or video (Video Posts).