How to Integrate Facebook into Your Business's Offline Marketing Campaign
Although you can use many great online tactics to enhance your Facebook presence, you can also promote your Page in offline ways, which may be more in line with your traditional marketing efforts — not to mention more effective for many of the small businesses, stores, restaurants, and local community groups that are marketing on Facebook. Closing the loop between marketing online and offline can be as simple as hanging a sign in your store window saying you're on Facebook and give your Page's name.
Networking offline
By joining professional organizations and attending industry events, you can establish your credibility in your particular niche. You can also connect to the other influencers and industry movers and shakers. Always network, whether through professional events or casual get-togethers, because what better opportunity allows you to hand out your business cards that include your Facebook Page URL?
If people want to find out more about your business, direct them to your Facebook Page. Let them know about all your business's social-media outposts — not just Facebook, but Twitter, YouTube, Flickr, SlideShare, and so on. Invite your real-world social network to connect with you online.
Placing the Facebook logo on signs and in store windows
If you own a restaurant, retail store, or professional office, why not put up a decal in your window or a sandwich board on the checkout counter that asks your customers to visit your Facebook Page? Make sure that anyone who visits your establishment can see the sign, like in the example shown in this figure. Let your customers know that you offer them something of value on your Page. Encourage them to like your Page and become a fan.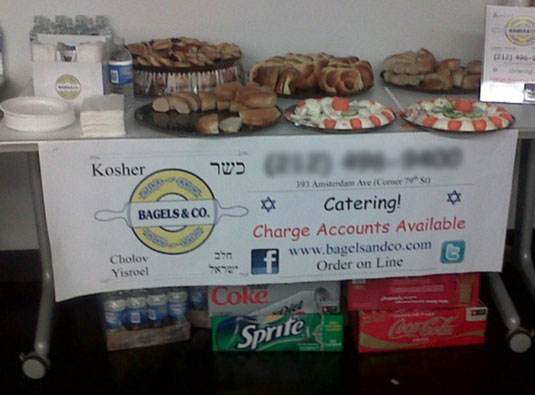 Tell your customers that you plan to reward them for visiting your Page. Give them a discount, a coupon, or special content (for example, recipes if you're a restaurant). Often, the people with whom you engage offline everyday are your best potential Facebook supporters.
Referencing your Facebook Page in all ads and product literature
Spread the love — and your Facebook Page URL — wherever you can. Put your Facebook Page address on all company printed materials. Display the Facebook logo and your Page link on your business cards; letterhead; direct-marketing campaigns; print, radio, and TV ads; catalogs; product one-sheets; customer case studies; press releases; newsletters; and coffee mugs, umbrellas, T-shirts, mouse pads, and holiday gifts.
Basically, wherever eyes might look, you want to place your Facebook URL. For example, Tom's of Maine toothpaste promotes its Page on all its product packaging.
Don't forget to get employees involved in spreading the word about your Facebook presence. Make sure you inform the people who work for your business about your Facebook Page because they can become your biggest brand ambassadors.