How to Get Help from the DragonBar
Just like any good software product, Dragon NaturallySpeaking has Help files that are installed with the software. In addition, Nuance Communications has done quite a bit of work on the interface to provide help for version 11. They also created a Sidebar so that you can see context-sensitive commands when you need them. Here are some of the ways that you can find help directly from the DragonBar on your desktop:
Help menu: To find help for NaturallySpeaking from the DragonBar itself, start with the Help menu. Here you will find major content areas, an index, and a keyword search area. To reach it from the DragonBar, go to Help→Help Topics and type or say what you are looking for. For example, you can say, "Search Dragon Help For <topic>."

Dragon Sidebar: The Sidebar is a specific help device that is available whenever you say, "What can I say?" (Yes, this is actually a command that NaturallySpeaking responds to.)

Tutorial: The tutorial can be accessed both from the Install files when you are setting up and from Help→Tutorial.

Help: This is the place where you can be guided to improve the performance of your software and your total experience. Periodic visits to the menu choice, "Improve my accuracy" are critical. Access it from the DragonBar by going to Help-->Improve My Accuracy.

Performance Assistant: The Performance Assistant guides you to improve the speed at which NaturallySpeaking can understand your speech. From the DragonBar, go to Help→Performance Assistant.

Tip of the Day: These tips pop up each time you launch NaturallySpeaking. When you are first getting started, they are especially helpful.
The Dragon software includes a Quick Reference Card that shows you how to accomplish some of the common things you will be doing with NaturallySpeaking.
The Sidebar is displayed by default when you launch NaturallySpeaking and open your User Profile. You can choose not to display the Sidebar. Make that setting change by going to the DragonBar, choosing Tools→Options→Miscellaneous Tab, and unchecking the box marked Show the Dragon Sidebar. You can always access it when you're dictating.
Go to the DragonBar and choose Help→Dragon Sidebar, or say, "Show Dragon Sidebar" or "What can I say?"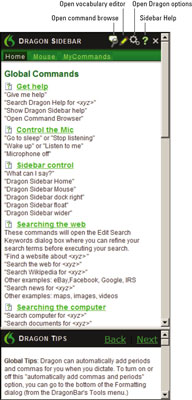 The Sidebar provides suggested commands for everything that you are doing while using NaturallySpeaking. This includes both global commands that work in most applications and commands supported only in specific applications, like Microsoft Word.
The Sidebar is divided into two major panes: a Commands pane on the top and a Tips pane at the bottom. You can resize these to suit your needs. It also has several menus and icons.