How to Get Facebook Mail
Chances are if you send out a message, pretty soon you'll get a notification in the form of a little red flag on your Home page letting you know that you've received a new message. When you click the notification, you'll be taken directly to your FAacebook mail conversation.
The most important thing to notice is that the most recent message is on the bottom of the page. Unlike News Feed or the Wall, you scroll up to see older messages. In this case, if you keep scrolling up, you'd see an ongoing conversation that started three years ago, when Carolyn and Amy first became Facebook friends.
At the bottom of your conversation, below the most recent message, is the message composer. The To field is missing. This is because whom the message is to is already clear.
The smaller options are the same, and there is one additional option at the bottom of the conversation. This is definitely a good one to know: the Quick Reply option.
The Quick Reply option allows you to send messages simply by pressing Enter. Some people love this; other people hate it. To turn it on, leave the Quick Reply box checked. If your need a line break in whatever you're writing, press Shift+Enter. Uncheck the box to turn it off. After you do that, a Reply button appears. You can then click that to send your message.
At the top of your conversation page are two buttons (the Messages button and the Actions button) and a search box. The Messages button brings you back to the main Messages. The Actions button features a drop-down list with the following options: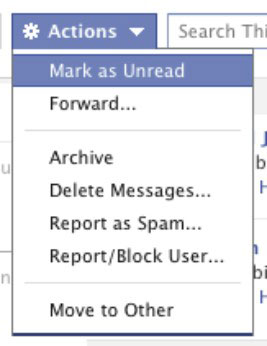 Mark as Unread: Choose Mark as Unread to mark the conversation as having unread messages (makes sense, right?). After you choose this option, the main Messages Inbox appears, and the conversation is highlighted in blue.

Forward: Choose Forward to send some or all messages from this conversation to other people. Choosing this allows you to select certain messages via check boxes so that you don't accidentally send the whole conversation to another friend.

Open in Chat: Opening a message thread in Chat allows you to send messages back and forth with your friend while you're browsing Facebook. It opens a small Chat box at the bottom of the screen. You can then chat with your friend even when you leave the Inbox.

Archive: Choose Archive to send your conversation to the archives. Remember, this moves the conversation out of your main Messages Inbox until a new message is sent.

Delete Messages: Like forwarding a message, this option allows you to delete some (or all) of the messages from any given conversation. After a message is deleted, you can never get it back.

Report as Spam: This usually doesn't apply to messages you receive from friends, but if you get spam from someone, choose Report as Spam, and the message is moved to a Junk Folder, which is a part of your "Other Inbox."

Report/Block User: If someone harasses you through Facebook Messages or makes you uncomfortable, you can block her from being able to contact you and report her to Facebook for her behavior. People who are repeatedly reported for this sort of harassment may be banned from Facebook.

Move to Other: The Other Inbox is for messages that aren't as important as your messages from friends. If a conversation with someone doesn't really deserve top billing among the messages you really care about, you can relocate it to the Other Inbox.