How to Generate Leads with LinkedIn's Advanced People Search
When you're ready to start looking for leads, you can rely on the LinkedIn Advanced People Search feature. LinkedIn's Advanced People Search allows you to search the database consisting of tens of millions of LinkedIn members based on the criteria you've established for the leads you want to generate.
To start a search, first make sure that People is selected in the Search drop-down menu in the top-right corner and then click the Advanced link next to the Search text box. Say, for example, that you need accountants who work in the Financial Services industry. To start such a search, you would fill in the Title and Industries fields of Advanced People Search.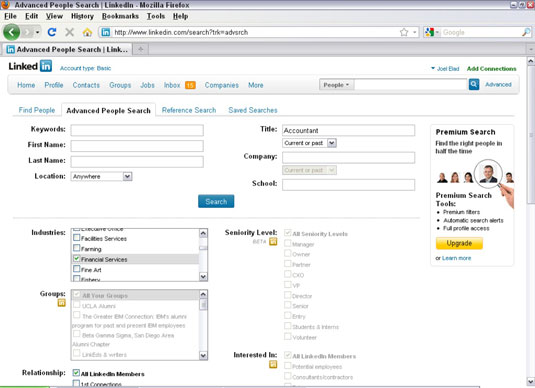 When you begin your search of the LinkedIn database, your own network can help you identify your best leads (people only two or three degrees away from you who you can reach through a first-degree connection introducing you) if you select Relationship from the Sort By drop-down menu. (The default option is Relevance.)
When you see your search results, now sorted by Relationship, you first see which results are closely connected with you via your connections. You can click each person's name to read his full LinkedIn profile, see how you're connected to that person, and decide whether you have a potential lead.
After you identify your best leads, you can use LinkedIn to find out what connections you have in common with these leads: simply click the Shared Connections link under the name for each search result.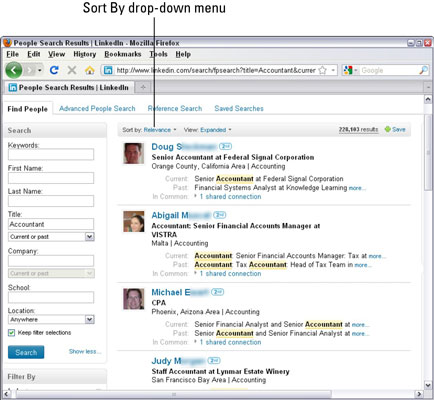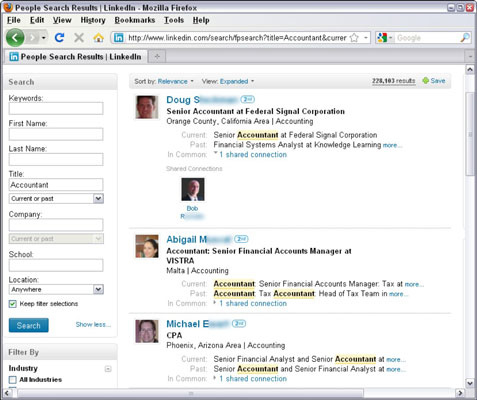 When doing general prospecting, surveying the market for that "perfect lead" or, at least, a lead in the right direction, try to keep these ideas in mind while filling in the appropriate Advanced Search fields in for each strategy:
Generalize your search. If you're looking for your ideal contacts independently of the company they work for, focus primarily on the Title and Industries fields to find your leads.

Narrow your search. Use the Keywords field to narrow your results list when you need to reach people within a certain niche of an industry or job.

Target specific people: Use either the Company or Keywords field, plus the Title field, to help you find specific employees in your target companies.

Refine your search by areas of knowledge: Roll your mouse over the More link from the top navigation bar; then click Answers from the drop-down menu that appears, and look for people who answered questions in your target area to see whether you spot a potential contact there.

Help your product sell itself: Search for the customers of your customers. Why would you do such a thing? You want to get those people excited about your product so that they'll demand it from your customers, of course! This strategy is also known as pull marketing.

Reach out through service professionals: Search for consultants who are hired by your potential customers by using the Title and Industry fields, or by choosing Consultants/Contractors from the Interested In drop-down list.

Because LinkedIn might help you discover a shared connection or bond between you and these consultants, you can ask those consultants for help in reaching your potential customers.