How to Frame and Craft Your Business Plan Mission Statement
Mission statements come in all shapes and sizes, each reflecting the nature of the company and business plan it represents. Some mission statements begin with definitions of company values; others begin with what the companies do; and others begin with descriptions of the customers the companies plan to serve.
In other words, there's no single, perfect way to frame a mission statement.
A good starting point, however, is to use a form like the one shown to assemble key ideas about what you do, who you serve, and how you plan to distinguish your company from your competitors. Together, these facts link ideas and form a framework for your mission statement.
After answering basic questions about your business and evaluating how your answers relate to one another, you're ready to transform your ideas into a mission statement.
Although you don't have any cast-in-cement rules to follow, here are a few guidelines to apply:
Describe who you are, what you do, and what sets you apart. At the same time, keep your mission statement as short and sweet as possible.

Use plain language. Your mission statement serves as a guide for people who know your business and people who don't, so make sure that everyone who reads it can understand it. If you can't explain your idea clearly (what's a multiplatformed B-to-B integration database solution anyway?), you aren't clear yourself, or you haven't gotten down to the basics yet.

Be specific. "We will be a leading provider of software" doesn't say much. In contrast, consider the mission of Intuit, maker of Quicken software: "The company's mission is to create new ways to manage personal finances and small businesses that are so profound and simple, customers cannot imagine going back to the old way." Now that gets down to the nitty-gritty.

Be enthusiastic. A mission statement is meant to sell your message and inspire your troops, so give it a strong sense of conviction and commitment.

Avoid hype and hyperbole. The latest buzzwords — from "quantum leap forward" to "a mega-paradigm shift" — don't mean much to most people. Stick to simple, straightforward explanations.

Think ahead. A mission statement should be grounded in the fundamentals of your business so that it will remain applicable and relevant for years to come.
Before you finalize your mission statement, take a look at some examples from real companies, both large and small, to see which statements you find impressive, inspiring, or just plain stronger than the others.
Whether you write your mission statement on your own or as part of a group, take time to respond to each example with a thumbs up or thumbs down, noting what you like about the winners and what you don't like about the losers. Your answers will provide a stronger sense of what you want your mission statement to look like.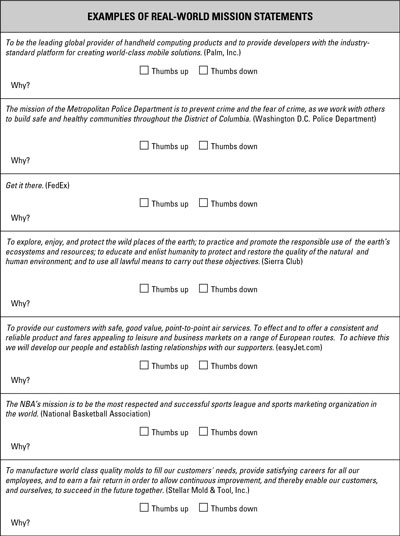 Just because you already have a mission statement doesn't mean you can breeze past this step. Many companies have mission statements, and too often those statements aren't much good. A weak or ineffective mission statement may not seem like a big deal, but in fact it can mean trouble if your company finds itself facing challenges that require it to get back to basics.
A strong mission statement looks at the very heart of what your company is. From this mission statement flow the goals and objectives that allow you to move forward. If you have a mission statement in hand, take it out and review it. If you're not satisfied with it, scrap it and begin the process of creating a new mission statement.