How to Find Information on the Etsy Blog
You can find all sorts of information on the Etsy blog. Maybe you're looking for tips to improve your Etsy shop, or you want to explore a new craft medium, or you want a glimpse into the lives of other Etsy sellers. The Etsy Blog acts like a community newspaper of sorts, serving up loads of fresh content daily. To access The Etsy Blog, click the Blog link that appears in the upper-left corner of any Etsy page. (You can also type www.etsy.com/storque.)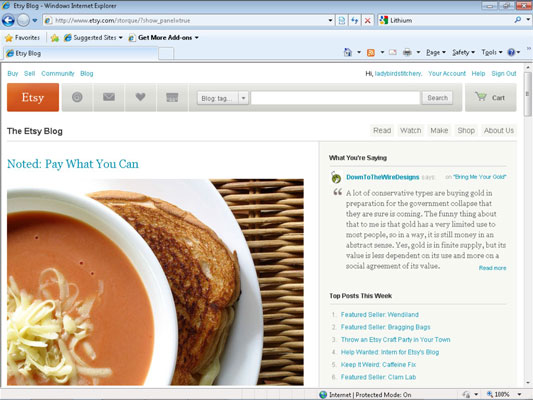 Etsy has organized The Etsy Blog into several handy sections to help you find the information you need. Simply click a section's link along the top of the main Etsy Blog page to access that section:
The Etsy Blog: Here you'll find articles from each section of the blog.

Read: Click this link for quick access to written pieces on The Etsy Blog.

Watch: The Etsy Blog doesn't just feature the written word. It also boasts video content, including visual how-tos, profiles of Etsy sellers, and more. To access this content, click the Watch link.

Make: Looking to master a new crafty skill? Check out The Etsy Blog's Make section, with links to loads of how-to articles and videos.

Shop: This section of The Etsy Blog is where you can track down Etsy's Featured Sellers, chosen by Etsy administrators. You can also read other regular segments, such as "Get the Look Decor" (in which Etsy spotlights a charming home and then flags listings of the same style), "Keep It Weird" (which highlights Etsy oddities), "Quit Your Day Job" (a Q&A-style segment featuring successful Etsy sellers), and more.

About Us: Want to meet the magicians behind the curtain? Check out the About section of The Etsy Blog.
To read an article or view a video in any section of The Etsy Blog, simply click the article title. Etsy opens the article in its own page.
To search for an article in The Etsy Blog, follow these easy steps:
Type your keyword in the Search box in the header bar.

Click the down arrow to the left of the Search box and choose Blog: Tags Only; Blog: Tags, Titles; Blog: Tags, Titles, Body; or Blog: Authors.

Click the Search button.

Etsy displays a list of blog articles containing the keyword you typed; click an article to view it.
In addition to reading the articles on The Etsy Blog, you can peruse the comments left by Etsy members. These comments are often as enlightening as the article itself. If you've got something to add, don't hesitate to weigh in; just scroll to the bottom of the comments, type your two cents in the Add Your Comment box, and click the Add Your Comment button.
If you have an idea for an article for The Etsy Blog, why not pitch it? Although The Etsy Blog is written primarily by various Etsy staffers, members of the Etsy community sometimes contribute. To pitch your idea, click the About Us link on The Etsy Blog to open the About Us page. Type your e-mail address in the field provided and then type your story idea, optionally including an image to pique Etsy's interest. Finally, click the Submit button. If Etsy likes your idea, it'll let you know!