How to Find and Join an Etsy Virtual Lab
Etsy regularly hosts special events called Virtual Labs. In these special chat rooms, Etsy staffers and members run seminars, workshops, shop critiques, and other educational gatherings. To view upcoming events and join Virtual Labs, open the main Etsy Community; then click the Virtual Labs link in the top-center area of the page.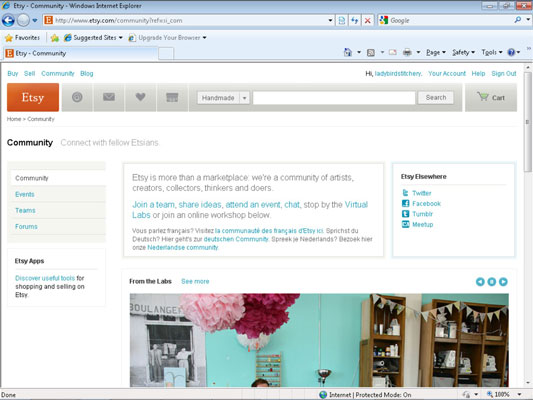 The Virtual Labs page opens. On this page, called the Virtual Labs lobby, you can view upcoming Virtual Labs and enter ones that are currently running.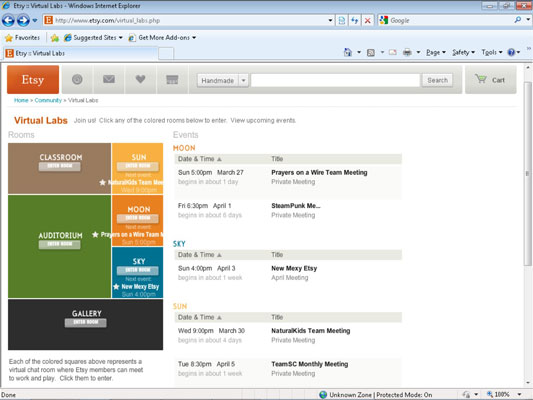 To enter a Virtual Lab, click its Enter Room button. When you do, you'll see your avatar in a screen that mimics a classroom of sorts, with a circle of "seats." To move your avatar to a seat, click the seat.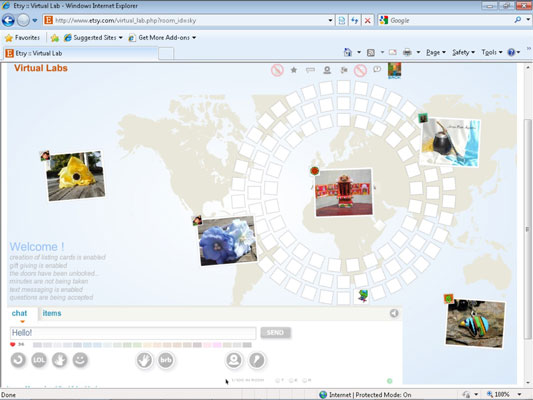 The Gallery room is a bit different from the others. In this room, you'll see loads of item listings, which you can peruse.
A Virtual Lab acts a lot like a chat room. For example, as in a chat room, you can view the conversation occurring in the Virtual Lab along the left side of the screen, and you can contribute to the conversation by typing your comment in the Chat field and pressing Enter or Return or clicking Send. You can also share listing items with other Virtual Lab participants, as you can in a chat room; to do so, click the Items tab next to the Chat tab to display a special field where you can paste the listing's URL or its ID.
Virtual Labs offer you a few more tools than a chat room, though — namely, buttons below the Chat field that you can click to make your avatar spin, bounce, beat, or glow. In addition to these tools is a button that you can click to indicate that you're raising your hand (for example, to ask a question) or waving, as well as one that you can click to let other participants know that you'll be right back.
To exit a Virtual Lab, click the Back button that appears in the room's upper-right corner or simply navigate to another Etsy page.