How to Find a Wireless Network Using Windows 7
The first problem you encounter when trying to make the wireless network connection is finding the network. Not all wireless networks show up at first blush.
Remember that physical objects around you affect the signal: walls, bookcases, large partitions made from lead, and superheroes. Those things readily block the wireless signal. Move around. Sometimes, moving the laptop just a few feet in one direction improves signal reception. Remember that if you cannot see the wireless hub directly, odds are good that you won't get a solid signal.
Windows 7 features a Refresh button: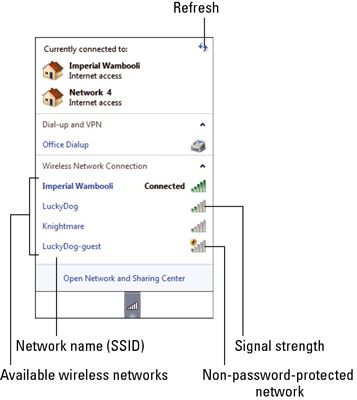 Some wireless networks don't send out their SSIDs. Although the wireless NIC still picks up the signal, no name is given for the access point. You have to supply the name.
In Windows 7, follow these steps to connect to a wireless network that's not showing its name:
Open the Control Panel.

Choose the link View Network Status and Tasks from beneath the Networking and Internet heading.

The Network and Sharing Center window appears.

Choose the link Set Up a Connection or Network.

The Set Up a Connection or Network window shows up.

Choose Manually Connect to a Wireless Network.

Click the Next button.

Type the network SSID (name) into the Network Name text box.

Choose the security type from the Security Type button menu.

If the Encryption Type button becomes available, choose the proper type of encryption from the menu.

Type the wireless network's password into the Security Key text box.

Put a check mark by the option Start This Connection Automatically. That way, you don't have to input this same information again if you ever need to reconnect with the same wireless network.

Click the Next button to connect with the network.

As long as you didn't screw anything up, and the network gods are pleased, you're connected to the nameless wireless network.

Choose the Connect To option.

And the connection is complete.
Another cause of a dropped connection may be a timeout. For example, some for-pay wireless services give you only a limited amount of access time. After that time expires, you're no longer connected or you may see the Pay Up home page rather than the Internet.
Finally, the connection problem may simply be that the password is incorrect. A dialog box warns you about it, but keep in mind that any wireless network passwords you stored in your PC might be changed by the various networks you access.