How to Enhance Websites with WordPress Widgets
WordPress widgets are built-in tools that enable you to arrange how content — such as blogroll, recent posts, and monthly and category archive lists — displays in your website sidebar. With widgets, you can arrange and display the content in the sidebar without knowing PHP or HTML.
Widget areas are the editable regions defined in your theme that allow you to insert or arrange content, such as a list of your recent blog posts, links to your favorite sites, or new custom menus, by dragging and dropping (and editing) available widgets on the Dashboard's Widgets page into those corresponding areas.
Many of the available widgets offered by WordPress (and those added sometimes by WordPress themes and plugins) provide drag-and-drop ease of installation of more advanced functions that would normally be available only if you wrote code directly into your theme files.
To view the widgets available for use on your website, choose Appearance→Widgets from the Dashboard. The Widgets page appears, displaying the available widgets on the left side of the page. This page enables you to control what features you use and where you place them — all without knowing a lick of code.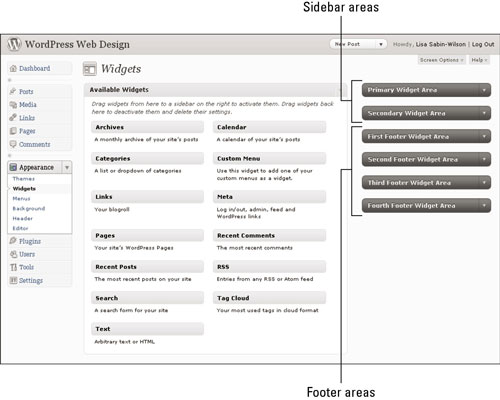 By default, the footer and sidebar in the Twenty Ten theme are widgetized, meaning the footer and sidebar areas will expand to show any content you add to any of the six widget-ready areas. When you activate the Twenty Ten theme, the Widgets page in your Dashboard shows six widget areas:
Primary Widget Area

Secondary Widget Area

First Footer Widget Area

Second Footer Widget Area

Third Footer Widget Area

Fourth Footer Widget Area
The first two widget areas, Primary and Secondary, display widgets on your website in the sidebar (in order of appearance: Primary first, Secondary second). The First, Second, Third, and Fourth Footer Widget Areas display on your website in the footer (or the bottom) of your website. They also display in a row across the bottom; the widgets added to the First Footer Widget Area display first, then the widgets in the Second Footer Widget Area display, followed by the third and fourth.

The number and appearance of widgets will vary depending on the theme you are currently using on your website. The Twenty Ten theme has six widget areas, but another theme may only have one or two.