How to Discuss Transportation in American Sign Language
Whether you need to get around town or want to see the world, travel requires transportation of some sort. The signs in this table can help you arrange your free-wheeling adventures.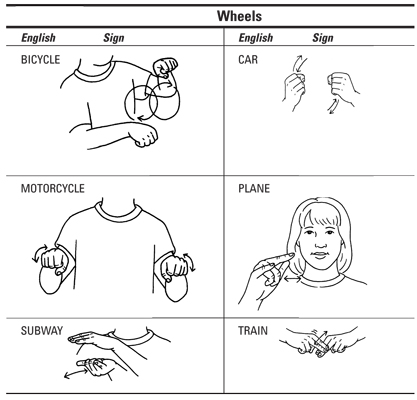 Bus is fingerspelled B-S — leave out the "u." To sign driving a bus, mimic a truck-size steering wheel at the lower chest level, wrap your hands around the imaginary wheel and steer back and forth. This motion also works for trucks, RVs (after you fingerspell R-V), or any large vehicle. Just fingerspell the big rig first.
Get the wheels in motion, so to speak, by using these automotive signs:
English: The car was in an accident.

Sign: CAR ACCIDENT

English: If I miss the train, I'll fly.

Sign: TRAIN MISS — FLY ME

English: You need a motorcycle helmet.

Sign: MOTORCYCLE HELMET — NEED YOU