How to Customize Your Privacy Controls on Facebook
Anytime you want to change or check your Facebook privacy settings, you need to go to the Privacy pages. These can be found by clicking the Account menu, the white downward-facing arrow, in the big blue bar on top, and then clicking Privacy Settings. This brings you to the Privacy page.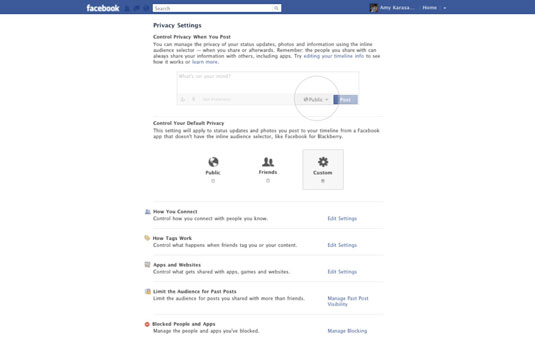 There are several sections on this page.
Control Privacy When You Post: This section is a reminder that you can actually set privacy anytime you share anything using the Share menu on your timeline.

Control Your Default Privacy: Default Privacy applies to the things you post when you aren't using the Share menu. For the most part, this applies to posting via Facebook's app for mobile phones. You have three options: Public, Friends, or Custom. Simply click the setting you would like.

How You Connect: The How You Connect section is where you control the ways people can find you and interact with you on Facebook. For the most part, these settings have to do with what people can see and do on your timeline before you are friends. Click Edit Settings on the right of the How You Connect to open the How You Connect settings box.

There are five settings in this section, each phrased in the form of a question. Click the drop-down menu to the right of each setting to change it. Click the Done button to close the box.

Who can look up your timeline by name or contact info? In other words, this setting controls who can find you in search. You can allow Everyone, Friends of Friends, or only Friends to find you if they enter your name or other contact info (like your e-mail address) into the Search box. Often people who are shy and like the sense of feeling hidden set this as their option. But leaving it open to Everyone allows your friends to find you and become your Facebook friends.

Who can send you friend requests? This setting determines who can request your friendship through the site. The default setting here is Everyone. This makes sense for most people because especially as you're getting started, many people you know may come across your timeline and send you a request. As you build up a lot of friends, you may consider changing the setting to Friends of Friends so that total strangers don't ask you to be a friend. The lowest possible setting here is Friends of Friends.

Who can send you Facebook Messages? This setting determines who can send you a message through Facebook. If you leave this set to Everyone, you never know what sort of opportunities or long-lost friends might show up and send you a message. Messages from non-friends are already kept separate in your Inbox, so you don't have to worry about non-friends taking up too much space. Remember, friends can always send you messages on Facebook.

Who can post on your timeline? Your timeline is where you can post all your status updates, photos, and other content. It's also a place where your friends can leave you messages or posts. If you don't want your friends leaving these sorts of public messages for you (a common need if you're using Facebook as a professional or for networking), you can set this to Only Me. Remember, people who are not your friends can never post on your timeline.

Who can see posts by others on your timeline: Another way to control the aforementioned "embarrassing friend on your timeline" problem is to limit who can see the timeline posts your friends have left. This option opens the Audience Selector.