How to Customize What You Share on Facebook
Facebook lets you control who you share your information with. For most pieces of information on Facebook, you have five options for the audience to which you want to make a piece of content visible:
Public or Everyone: By setting the visibility of something you post or list to Public, you're saying that you don't care who, on the entire Internet, knows this information about you. Many people list their favorite bands, and, just as they'd shout this information from the treetops, they set the visibility to Public. This is a totally reasonable setting for innocuous pieces of information. In fact, some information is always available as Public Information that everyone can see. This includes your name, current timeline picture, gender, any networks you belong to, your username, and your cover image.

Now, just because everyone can see something doesn't mean everyone does see everything. Your posts, information, friendships, and so on populate your friends' News Feeds (assuming your friends can see this information), but never the News Feeds of people you're not friends with (unless you allow subscribers to see your public posts). By default, much of your timeline and all of your posts are publicly visible.

Friends: Any information for which you set visibility to Friends will be accessible only by your confirmed Facebook friends. If you trust your friends, this is a reasonably safe setting for most of your information. If you feel uncomfortable sharing your information with your friends, you can use custom privacy, or you can rethink the people you allowed to be your friends.

Custom: If you have very specific needs, customized privacy settings may help you feel more comfortable sharing on Facebook. The Custom privacy option allows you to choose specific people (or lists of people) who can see something, or choose specific people (or lists of people) who can't see something.

Friends of Friends: One commonly used custom setting that allows you to share with a few more people is the Friends of Friends option. By setting the visibility of some information to Friends of Friends, you're saying that the only people who can see that information are your friends and their friends. This setting is really useful for sharing things that involve your friends. For example, if you post a photo album that has pictures of your friend, she may want her friends to see those photos as well. Although Facebook strives to maintain the real-world strength of having a friend in common, this setting can still allow your content to be visible to many people.
Privacy on Facebook isn't a one-time thing. Because you are constantly adding new statuses, photos, and content to Facebook, constantly interacting with friends and reaching out to people, privacy is actually an ongoing affair. To that end, one of the most common places you should know your privacy options is in the Share menu.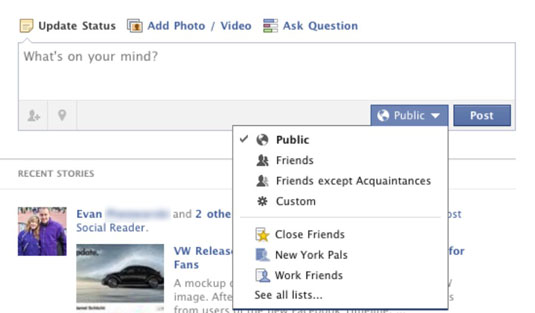 Sometimes, you may find that you want to share something with only a portion of your friends. To do that, choose Custom from the Privacy menu. This reveals the Custom Privacy box.