How to Create Your Business's Facebook Page
A business Page provides wonderful opportunities for marketing and promoting your business. Are you ready? Before you attempt to create your business Page, first read through these steps and then follow along when you read them again:
Log in to your personal Facebook account.

Go to http://facebook.com/pages/create.php.

Doing so brings up a screen showing six Page types. If you need to, take the time to click each Page type and then click the drop-down category list. Look for a category that matches your business.

Select the type of Page to create.

New options become available for you to fill in.

Select the category of Page you want.

The category you choose determines the types of Info fields that are available for your Page. All types, except Cause or Community, ask you to select a category for your Page. The reason to find the best category is that the category determines what details are shown on your business Page's Info link.

The Book category, for example, displays an Info link with fields for the International Standard Book Number (ISBN); the Café category gives you fields for hours and types of credit cards you take.

Type the requested information.

Depending on which business Page type you choose, you see different text fields to fill in. The Name field ends up being the title of the Page.

Each of the six types calls the Name field something different: Local Business calls it Business or Place; Company calls it Company Name; Brand or Product calls it Brand or Product; Artist or Band calls it Name; Entertainment calls it Name; and Cause or Community calls it Cause or Community.

Facebook likes (insists on) first letters being capitalized for Page names. You need to fill out all fields to be able to create your Page.

Take the time to think through this whole naming business. You'll be able to change a Page name only up to the point at which you have 200 people who like your Page. After that point, you're stuck with it unless Facebook opens the link to change it again. So think it through.

Select the I Agree to Facebook Pages Terms check box.

You must be the official representative of this person, business, band, or product to create this Page. If you're not, you're in violation of Facebook Terms and Services; Facebook can (and will) remove your Profile and not reinstate it.

Click the Get Started button.

You've created a Facebook Page!
Now Facebook takes you through a three-step process to fill in and open your Page to the public: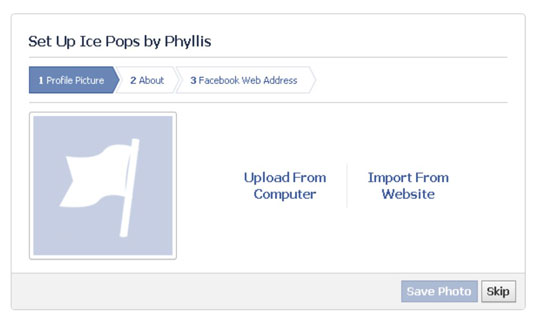 Upload a Profile picture.

A Profile picture isn't the large Cover photo you see on other Pages. This is the smaller, square image located in the bottom-left corner overlaying the Cover photo. The image can be any shape, but the viewable part is square (180 × 180 pixels). In just a moment, you can specify what part of this image becomes the thumbnail that will accompany your posts.

After you've uploaded your Profile image, click Next.

Fill in a basic description and any other site links, such as Twitter or a website.

You can add as many links as you want.

When you have those links in place (always use the http:// part of the URL so that the links will be hyperlinked), click Save Info.

Set your vanity URL in the Web Address tab.

This tab comes and goes. Sometimes you see this third tab, and sometimes you don't. If you see it, you're very lucky, as you can set your vanity URL right away, without having to develop 25 likes for the Page to get it.
A vanity URL, or username, is the part of a Facebook address for your Page. For example, http://facebook.com/TheMissPhyllisCollection. Before you get a username, the address might look like this: https://www.facebook.com/pages/The-Miss-Phyllis-Collection/139008436119989. If you see this step, think this through because in our experience, once you've set it you will only be able to change the URL for the Page once more.
Now Facebook takes you on a little guided tour, suggesting your next steps to take:
Like Your Own Page: Go ahead and do this!

Invite Your Friends to Like the Page: Don't do this because you haven't fixed your Page up yet! You haven't uploaded a large Cover photo or completed the Info Page yet. You'll be able to invite your Friends at any point, so wait til you have your page completely set up.

Invite Your E-mail Contacts: Again, don't do this step right now. You'll be able to return to this step later, so click Next.

Share Something: This step is where you would create your first post as the Page. Unless you have something lined up to say, click Skip, and come back to this later too.
The guided tour ends, and Facebook rolls up to the top of your Admin panel.
When you create a new Page, Facebook defaults it as published! Yikes! You may want to unpublish your Page to the public so that you can continue to work on it privately. Just look for the Edit Page button, and follow these steps:
Click the Edit Page button.

This button is located at the top of your new Page.

Choose Manage Permissions from the drop-down menu.

Select the top check box, Page Visibility, so that only Admins can see this Page.

This option effectively unpublishes your new Page, hiding it from everyone except Page Admins.

Click Save Changes.

Your business Page is now visible only to you and any other Admins. After you've decked out your Page with a Cover image, detailed info, photos, and other fun things, you can publish the Page for all to see by coming back to this Page and clearing the Page Visibility check box.