How to Create a Program Blueprint for a Grant Application
When you apply for a grant, use a Logic Model (a graphic blueprint of the key elements of your proposed program) to sway the reader. This blueprint, or Logic Model, looks at inputs, activities, outputs, outcomes, and impacts.
If you live and work in the world of grants, it's difficult to avoid the Logic Model. It seems like just about every type of funder wants you to include a Logic Model in the program design or action plan section of your grant application or contract bid narrative.
The columns of your Logic Model graphic should contain
Inputs: The human, financial, and physical resources dedicated to your grant-funded program. These resources include money, staff and staff time, volunteers and volunteer time, facilities, equipment, supplies, and community partners.

Strategies: What your program uses to organize the inputs. Using effective strategies helps the program to fulfill its mission.

Outputs: The direct results of your program's implementation activities. They're actually written as indicators of productivity. Outputs usually start with the phrase "number of" and reflect how you will quantitatively track your program activities.

Outcomes: The benchmarks or measurements for your target population during and after program activities. Some funders want to see short-term outcomes (3- to 6-month objective measurements) and others want to see intermediate outcomes (6- to 12-month objective measurements).

Long-Term Impact: Funders want to know what long-term outcomes or impact (changes in systems and processes after the funding is expended) you anticipate for your target population.
This figure shows the basic structure for the Logic Model. It's only one example of how funders might instruct you to prepare your Logic Model form.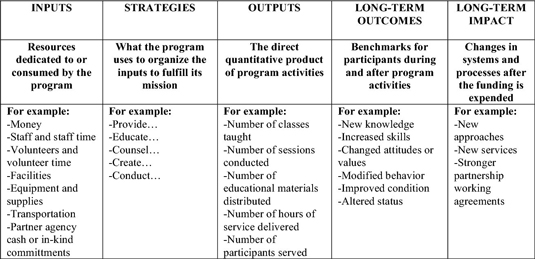 If you have a multiple-year program, you need to have multiple-year Logic Models. Each year's model should show a set of inputs, activities, outputs, outcomes, and impacts on its own subset of typed pages.
The Logic Model isn't a process you can pick up overnight. But reviewing the online materials at the W. K. Kellogg Web site can help with the learning curve. You might want to print out the site's Logic Model Development Guide and use it as a desktop reference.