How to Correct a NaturallySpeaking Recognition Error
Depending on how quickly you catch the error, you can correct it in one of the following two ways:
If you catch the error as soon as NaturallySpeaking makes it, say, "Correct That" or "Spell That." See "Casting a spell," later in this chapter for more about Spell That.

If you don't catch the error immediately, say, "Correct <incorrect text>." (You can also select the erroneous text verbally or with your voice and then say, "Correct That.")
The table summarizes these ways of making a correction. If you would rather not use voice commands at all, select the text and then press the – (minus) key on the numeric keypad of your keyboard or click the Correct button on the NaturallySpeaking DragonBar Extras section. (You can substitute a different key for the – (minus) key.)
Making Your Corrections
First Word
Second Word
Third Word
Fourth Word
Correct
That
Spell
That
Correct

<text>

Correct

<text>

Through

<text>

No matter how you do it, the Correction menu box appears, as shown.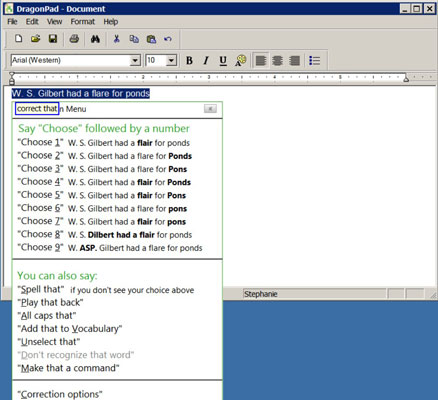 The dictation error that the figure illustrates occurred when the user said, "W. S. Gilbert had a flair for puns." What NaturallySpeaking thought she said was, "W. S. Gilbert had a flair for ponds." When the user said "Correct That," the Correction menu box shown appeared.
NaturallySpeaking chose some alternative interpretations of what was said, listed in the box, up to a maximum of nine. The figure shows NaturallySpeaking got most of the phrase right.
If the correct phrase is listed in the Correction menu box, you need only tell NaturallySpeaking which number it is. If the user had said, "W. S. Gilbert had a flair for ponds," then she could make the correction in by saying "Choose 1." You can also click the correct version with the mouse. When you indicate your choice, the Correction dialog box closes and the correction is made in the text.
Sometimes, none of the options offered is correct, as is the case in this figure. In those instances you should try to re-dictate over the highlighted text. If Dragon gets it wrong again, say, "Spell that." The Spelling Window will open. Start spelling the correct version out loud.
With each new letter, more alternatives appear in the box as NaturallySpeaking continues trying to guess what the correct version is. If the correct version appears, you can stop typing or spelling and choose it by number. The Correction menu box closes and the correction is made in the text.
Here are a few additional reminders and tips:
Don't attempt to dictate replacement text in the Spell window. NaturallySpeaking tries to interpret your utterances as letters!

If you are correcting a large block of text, you can say, "Correct <beginning of incorrect text> Through <end of incorrect text>."