How to Choose Files with the File Picker on Your Surface
When you need to select a file from within a Start screen app on your Microsoft Surface tablet, such as opening a photo to view in the Photos app, you'll use the File Picker. File Picker is not much of a file management tool, but it works fine for selecting a few files or folders when needed.
The File Picker can only be summoned from within a Start screen app. When it appears, you'll see that it's a bare-bones program, designed merely to navigate storage areas and find a file or two.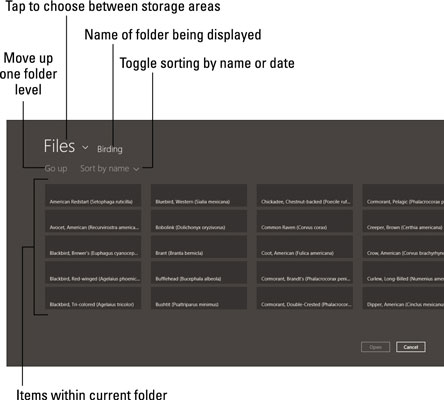 When the File Picker eventually rears its head on your Surface, follow these steps to locate a file:
Tap the word Files in the screen's upper-left corner, and choose the storage area containing your file.

When you tap the word Files, a menu drops down, listing all the storage areas available on your Surface: your Documents, Pictures, Music and Videos libraries, for example, as well as your Windows desktop and your Downloads folder. (The Downloads folder contains all the files you download from websites.)

You can also access places outside of your Surface. You can access files shared on your homegroup from other networked PCs, as well as files stored on SkyDrive.

Some of your apps may have also added their storage spaces to the File Picker's menu, as well.

Tap the folder or storage area you'd like to open, or tap the file you'd like to select.

When you tap a storage area in Step 1, the File Picker displays all of that storage area's folders and files. (To help you keep track of what you're seeing, the File Picker lists the name of the folder you're currently viewing next to the word Files.

If you see your file's name, tap it and you're through: Your app opens it.

Tapped the wrong folder by mistake? Tap the words Go Up, just below the Files button, to return.

If you don't see your desired file, keep tapping folders, opening different ones to keep looking.
Still can't find your file? Summon the Charms bar and tap the Search icon. Windows Search feature can find it fairly quickly. After you find it, remember its location, so you can return to it with the File Picker.