How to Choose a Bullet Character, Size, and Color in PowerPoint 2007
A black circle isn't the only character you can use in a PowerPoint bulleted list. PowerPoint offers colorful bullets of many sizes and shapes. You can choose any one of them from PowerPoint's Symbol dialog box. While you're at it, you can change bullets' colors and size.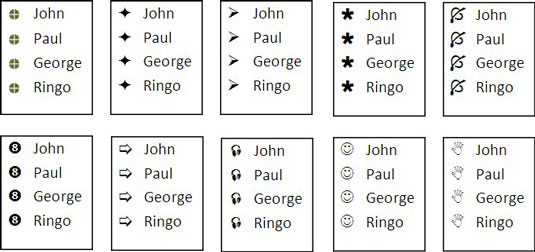 Select your bulleted list click the Home tab, and open the Bullets drop-down list.

Select a bullet or click the Bullets and Numbering option to see more choices.

The Bullets and Numbering dialog box opens.
You have the following options:
Use a picture for bullets: Click the Picture button and select a bullet in the Picture Bullet dialog box.

Use a symbol for bullets: Click the Customize button and choose a bullet in the Symbol dialog box. By opening the Font drop-down list and choosing a Wingdings font, you can choose among oddball characters.

Change bullets' color: Click the Color button in the Bullets and Numbering dialog box and choose an option on the drop-down list.

Change bullets' size: Enter a percentage figure in the Size % of Text box. For example, if you enter 200, the bullets are twice as big as the font size you chose for the items in your bulleted list.