How to Chat with Skype on an Android Phone
You can text-chat with any Skype user on your Android phone; it works similarly to texting, though with no maximum-character limitations. The only restriction is that you can chat only with other Skype users.
To chat, choose a contact from the Contacts list. You see a screen with more detailed information about the contact. Choose the option Send IM, where the IM stands for Instant Message. If your Skype friend is online and eager, you'll be chatting in no time.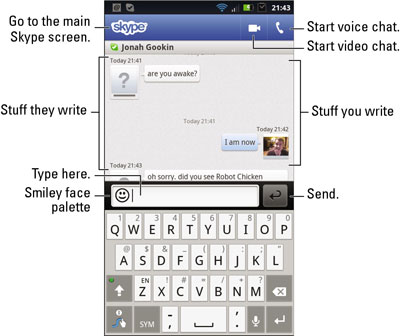 Type your text in the box, and touch the Send button to publish your comment. You can also use the Smiley button to insert a cute graphical image into your text.
The Skype Chat notification appears whenever someone wants to chat with you. It's handy to see, especially when you may have switched away from the Skype app to do something else on your phone. Simply touch the notification to get into the conversation.

You can add more people to the conversation, if you like: Touch the bottom Menu soft button, and choose the Add command. Select the contacts that you want to join your chat session, and then touch the Add Selected button. It's a gang chat!

To stop chatting, press the Back soft button. The conversation remains in the Skype app, even after the other person has disconnected.

Old chats stored in the Skype app are accessed from the Recent icon button.

For the chat to work, the other user must be online and available.