How to Change Your WordPress Blog's Write and Read Settings
You can really personalize your WordPress blog by changing the Writing and Reading Settings. Click the Writing link in the Settings menu; the Writings Settings page opens. This page lets you set some basic options for writing your posts.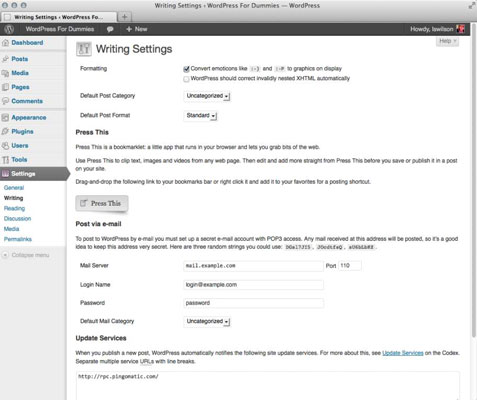 This table gives you some information on choosing how your posts look and how WordPress handles some specific conditions. After you set your options, be sure to click the Save Changes button; otherwise, the changes won't take effect.
Writing Settings Options
Option
Function
Default
Formatting
Determines whether WordPress converts emoticons to graphics and whether WordPress corrects invalidly nested XHTML automatically. In general, always select this option.
Converts emoticons — such as :-) and :-P — to graphics.
Default Post Category
Select the category that WordPress defaults to any time you forget to choose a category when you publish a post.
Uncategorized
Default Post Format
Select the format that WordPress defaults to any time you create a post and do not assign a post format. (This is theme specific; not all themes support post formats.)
Standard
Press This
Drag and drop the Press This link to the bookmark toolbar of your web browser and then use it to easily publish content that you find around the Internet directly to your blog.
N/A
Post via E-Mail
Publish blog posts from your e-mail account by entering the e-mail and server information for the account you'll be using to send posts to your WordPress blog.
N/A
Update Services
Note: This option is available only if your blog is made public in the Privacy settings.
Indicate which ping service you want to use to notify the world that you've made updates, or new posts, to your blog. The default, XML-RPC updates all the popular services simultaneously.
http://rpc.pingomatic.com
The third item in the Settings drop-down list is Reading. Click the Reading link to open the Reading Settings page.
You can set the following options on the Reading Settings page:
Enable a Static Front Page: Select the check box to show a page instead of your latest posts on the front page of your site.

Blog Pages Show at Most: In the text box, enter the maximum number of posts you want to appear on each blog page.

Syndication Feeds Show the Most Recent: In the text box, enter the maximum number of posts that you want to appear in your RSS feed at any time.

For Each Article in a Feed, Show: Select the radio button for either Full Text or Summary. Full Text publishes the entire post to your RSS feed, whereas Summary publishes only an excerpt.

Search Engine Visibility: By default, your website is visible to all search engines such as Google and Yahoo!. If you don't want your site to be visible to search engines, select the check box labeled Discourage Search Engines from Indexing This Site.
Generally, you want search engines to be able to find your blog. However, if you have special circumstances, you may want to enforce privacy on your site. For example, a friend of mine has a family blog and she blocks search engine access to it because she doesn't want search engines to find it. When you have privacy enabled, search engines and other content bots can't find your website.
Be sure to click the Save Changes button after you set all your options on the Reading Settings page to make the changes take effect.