How to Change Snow Leopard's Accounts Preferences
Mac's System Preferences pane, which you access by clicking the gear icon on the Dock, lets you manage your Accounts. Each user on your system has an entry in the Accounts list. The panes and settings here change, depending on the access level of the selected account.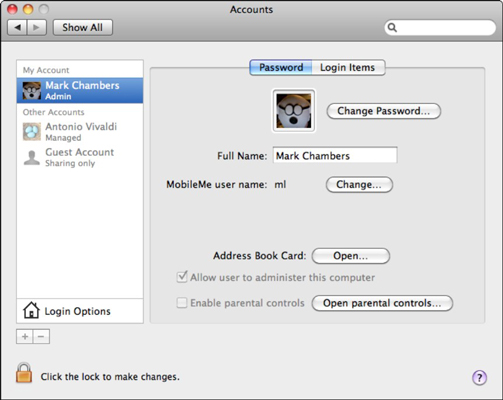 Configuring accounts is easy from System Preferences.
Although the panes you see vary, here is a list of the available panes:
If you choose, you can log in automatically as the selected user by clicking the Automatically Login <Username> pop-up menu and choosing your account. (This isn't a particularly secure feature for MacBook owners, but convenient as all get-out.)
The Login Options panel also allows you to enable or disable Fast User Switching, and you can prevent anyone from restarting or shutting down the Mac from the Login screen by selecting the Hide the Restart and Shut Down Buttons check box.