How to Change Mac Snow Leopard's MobileMe Settings
MobilMe is Mac's application for synchronizing all of your gadgets: your iPhone, Mac, PC and iPod touch. You can set your MobileMe options on Internet and Network section of the System Preferences panel. To open System Preferences, click the gear icon on the Dock.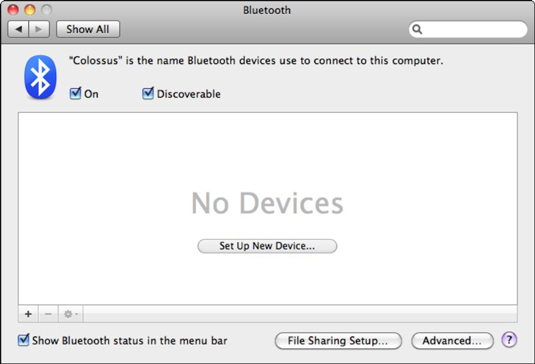 Control and configure your MobileMe account.
The four tabs are
Account: In the MobileMe Member Name and the Password text boxes, respectively, type your MobileMe member name and password to display the Account tab. If you want to subscribe, click the Learn More button to launch your Web browser and you're whisked to the MobileMe sign-up page.

Sync: If you want to synchronize your computer (or multiple Macintosh computers) with the personal information and data stored online in your MobileMe account, select the Synchronize with MobileMe check box and click the pop-up menu to specify manual or automatic synchronization. (To manually sync, click Sync Now.)

You can also specify which categories of data you want to sync. Naturally, the fewer categories you choose, the less time it takes to sync. To register a computer so that you can sync with it, click the Advanced button and then click Register Computer. Snow Leopard can display your Sync status in the Finder menu bar.

iDisk: This pane displays your current iDisk usage and allows you to subscribe for additional space with the Upgrade button. You can set your access privileges for your public folder by selecting or deselecting the Allow Others to Write Files in Your Public Folder check box, and you can add a password that others have to enter before they can access your public folder.

If you click the iDisk Sync Start button on the iDisk tab you enable the Snow Leopard iDisk syncing function (which creates a local copy of your iDisk on your Mac). Select the Update Automatically option; this optionallows iDisk to run much faster because Mac OS X can read and write by using your local iDisk copy on your hard drive.

Your Mac regularly synchronizes the data on your local hard drive across the Internet with the iDisk on the Apple server. To make sure that you're always using the most recent copy of a file on your iDisk, select the Always Keep the Most Recent Version of a File check box.

Back to My Mac: From this list, you can control file and screen sharing across all the computers you use with your MobileMe account. To begin using the Back to My Mac features, click the Start button. (Remember, you'll have to turn on Back to My Mac on all computers that will use this service.)