How to Buy Tracks from Spotify
Spotify doesn't have a dedicated download store, per se, but you can buy tracks from wherever you are in the application. So, if you're just browsing, or looking at a playlist or album listing, you can purchase tracks via any view. (You can even buy bundles of tracks when you're syncing local files to your iPod.) When viewing an album, a Get Album link appears below the album cover art.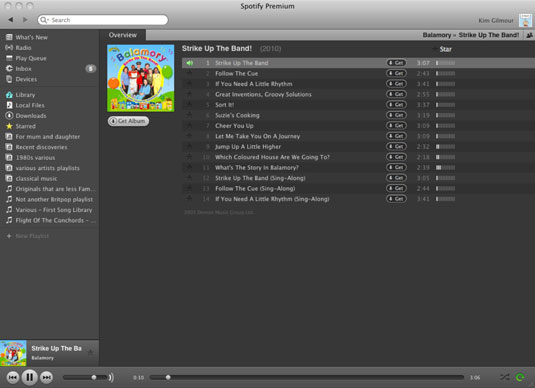 Next to search results and playlists, you see a dedicated Get column (which you can use to get the track as an MP3 download). A little logo that includes a down-pointing arrow appears in this column.
For album and artist listings, you actually see the word Get next to the down-pointing arrow, rather than a Get column. For album listings, you can also buy all its tracks in one go by clicking Get Album.
To get a track on Spotify, follow these steps:
Click the Get logo next to the track you want to buy.

You don't have to be listening to the track in order to buy it.

The logo changes into

Click

You're prompted to enter your password to access the Spotify Downloads section (unless you previously opted to save your password).

Enter your password in the text box and click Verify.

A window appears. In this example, you want to buy a track by cheeky novelty act Flight of the Conchords called "Fashion is Danger." This track equates to one download. As you can see, you don't have any downloads available to obtain the track, so you have to buy some.

Either buy the one track or buy a bundle by selecting the appropriate radio button.

In the example, paying £1.15 for one tiny song is quite hefty when you can buy a bundle and get individual tracks cheaper. When you click 15 Downloads, you're alerted to the new price you must pay and how much this cost equates to per track (£0.67).

If you haven't already registered a payment method with Spotify, click Continue.

The dialog box that appears allows you to securely enter your credit card or PayPal details.

If you have registered a method of payment, skip to Step 7.

Enter your payment information in the fields provided.

Click Confirm Purchase to process the transaction.

When your payment goes through, an alert appears, telling you so. The track you chose starts downloading — you see spinning arrows next to the track, as well as next to the Downloads option on the left sidebar. This download probably takes only a few seconds, but it depends on your download speed.
If your Internet connection hangs or your computer freezes during the download, don't panic. The download resumes when you can reconnect to Spotify, and you can download a track several times for free.