How to Build an eBay Listing Description with Cool eBay Tools
If you need to create your eBay listing in a hurry, but you don't have time to learn new design software, then the Cool eBay Tools site is for you. They offer a free ad tool that takes your title, description, picture, and other listing information, and then creates the HTML code so that you don't have to!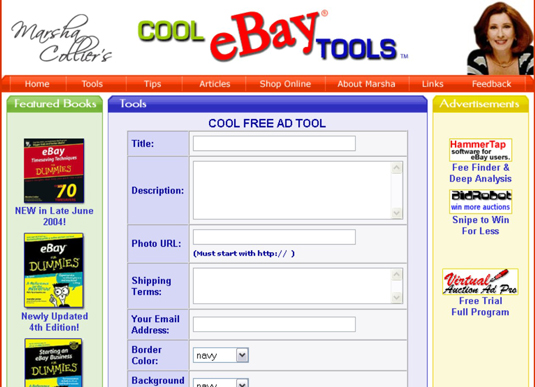 The Cool Free Ad Tool page.
When you land on the Cool eBay Tools home page, click the Tools link in the navigation bar. On the resulting page, click the Cool Free Ad Tool link and you jump to the instant template page, shown here.
To set up a quick eBay template using this tool, follow these steps:
In the Title box, type the headline for your description.

In the Description box, enter a description.

You can copy and paste prewritten text from Notepad or a word-processing program, or just write your copy text as you go along.

In the Photo URL box, enter the URL of your image.

In the Shipping Terms box, type the pertinent information (optional).

Enter the e-mail address that you use for eBay.

The address is used to put code in your description for an E-mail for Questions link. Cool eBay Tools does not keep your e-mail information.

Select the border and background colors from the drop-down lists.

Click View Ad.

Your instant eBay ad.

You see how your new auction description looks.

Scroll down until you see a box containing the auction description's HTML code, as shown here.

HTML coding for your auction.
You can copy and paste this code directly into the eBay description area of the Sell an Item form (or any eBay listing tool). You can also add HTML codes and even another picture to your auction description.