How to Browse Movies, Videos, and TV Shows in iTunes
You can browse your movies, videos, and TV shows in iTunes. Any movie, video, or TV show files you add to your library from sources other than the iTunes Store are classified as movies, and you can find them in the Movies section of the Source pane. The Movies listing also displays those movies and short films you downloaded from the iTunes Store.
You can browse movies, TV shows, and videos by using the Column Browser in List view, or browse cover art in Grid or Cover Flow view. The Grid view (as shown in this figure) and the Cover Flow view show the first key frame of the movie or the box cover art for the movie.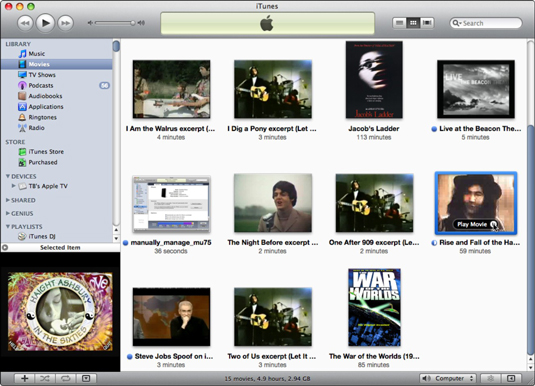 Browse and play movies in your iTunes library in Grid view.
You can browse TV shows by selecting TV Shows in the Library section of the Source pane. The List view shows the episode title, show title, and season number. The Column Browser in List view organizes TV shows by Genres, Shows, and Seasons. The Grid and Cover Flow views show the promotional cover art for the TV show.