How to Administer Your Facebook Group
If you are a creator of a Group, you are automatically its admin or administrator. Additionally, you can be added as an admin of someone else's Group. After you have members in your Group, you can use the Group member list to remove (and even permanently ban) undesirable members, promote your most trusted members to administrators, or demote your existing administrators (if any) back to regular members.
To get you started in your career as an admin, take a look at the Edit Group page. You get to this page by clicking the Edit Group link from the drop-down list you get by clicking the Gear button at the top right of the Group Home page. Does it look a little familiar? It should look a little like your Edit Profile page, albeit with fewer sections.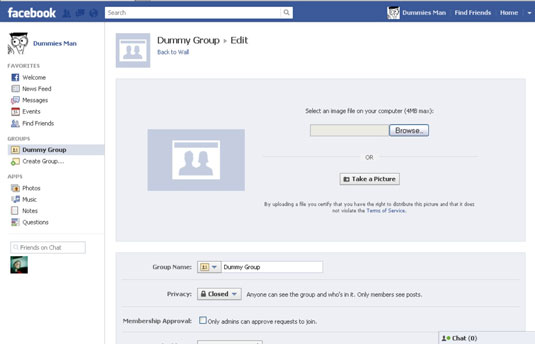 First, you can add a Profile picture that appears as a thumbnail next to your Group's name. To add a thumbnail, click either the Browse or the Take a Picture button. If you select Browse, navigate to your computer's folders to find your desired photo. After you select the photo, click Open or Save or Select.
Take a Picture works only if you have a webcam installed on your computer.
After you select the image or use your webcam to take a picture, the picture appears on the screen.
You can scroll down to update the Basic Information for the Group. If you're the creator of the Group, this page should look pretty familiar to you. It has many of the same options you had when you created this Group:
Name: Edit the Group name here.

Icon: You can change your icon at any time from here.

Privacy: The privacy level of the Group can change here.

E-mail Address: You can register an e-mail address with an @groups.facebook.com domain for your Group that you can then use to share information via e-mail. When members e-mail something to the Group, it appears as a post on the Group Wall.

Description: The description of your Group appears the first time new members visit your Group page. So this is a good place to set expectations for what the Group is for and how you expect to use it.
Click Save when you're done editing your Group's information; otherwise, all your hard work will be lost.
As an admin, you can remove and ban members from the Group, as well as create other admins to help shoulder the burden of admin-hood.
To Edit members, follow these steps:
Below the Group header, in the middle of the page, click the Members link.

This takes you to the Members page.

To remove members of the Group, click the X next to their names.

You need to confirm this. If someone has been posting consistently offensive or abusive content, you can ban them permanently by checking the Ban Permanently box; this means that person can never rejoin the Group.

To make someone an admin, click the Make Admin button besides that person's name.

Similarly, when someone is an admin, you can remove their admin status by clicking the Remove Admin button beside their name.