How to Add Widgets to the Android Phone Home Screen
The Home screen on an Android phone is the place where you can find widgets, or tiny, interactive information windows. A widget often provides a gateway into another app, or displays information such as status updates, the name of the song that's playing, or the weather. To add a widget to the Home screen, heed these steps:
Switch to a Home screen panel that has room enough for the new widget.

Unlike app icons, some widgets can occupy more than a postage-stamp-size piece of real estate on the Home screen.

Long-press the Home screen and choose the Widget (or Widgets) command.

From the list, choose the widget you want to add.

For example, choose the Power Control widget to get quick access to several popular phone features, such as Wi-Fi or Bluetooth or other settings you often turn on or off.
The widget is plopped on the Home screen.
The variety of available widgets depends on the applications you have installed. Some applications come with widgets, some don't.
Icons and widgets aren't fastened to the Home screen. If they are, it's day-old chewing gum that binds them, considering how easily you can rearrange and remove unwanted items from any Home screen panel.
Long-press an icon on the Home screen to move it. Eventually, the icon seems to lift and break free.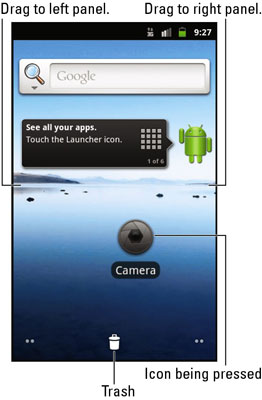 You can drag a free icon to another position on the Home screen or to another Home screen panel, or you can drag it to the Trash icon that appears on the Home screen, which deletes the shortcut.
The Trash icon can appear on the top or bottom of the screen.

Dragging a Home screen icon or widget to the trash removes the icon or widget from the Home screen. It doesn't uninstall the application or widget; the app can still be found on the App menu, and the widget can once again be added to the Home screen.

If the Home screen features the Dock, you can drag the icon to the Dock to stick it there, replacing whatever icon already dwells there; you cannot drag an icon off the Dock.

When an icon hovers over the Trash icon, ready to be deleted, its color changes to red.