How to Add Custom Sections to Your LinkedIn Profile
In addition to the standard Experience, Education, and Additional Information sections, you can add sections to your LinkedIn profile to reflect achievements and experiences. Hiring managers are able to find out more about you and how you might fit their needs due to LinkedIn's great flexibility with what types of content you can add to your profile.
To add sections, just click on the Add Sections link on you profile right below the blue box with your personal information.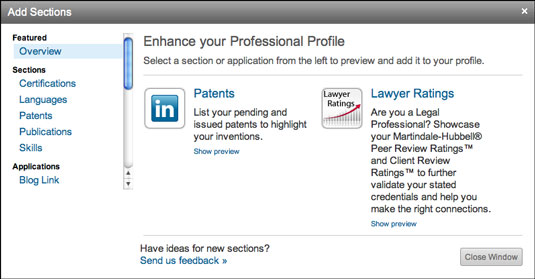 Certifications: Certifications are particularly important to highlight if you're an engineer.

Language: Options include native or bilingual, professional working, and elementary proficiencies.

Patents: Okay, Miss Smarty-Pants, so you have some patents under your belt. Go ahead and let everyone know how brilliant you are!

Publications: Have you written any articles that have been published in a major newspaper or magazine? Adding these publications to your profile can really boost your credibility.

Skills: This section indicates your skills and how many years of experience you have doing those skills.
You can reorder every part of your profile. After you add the new section, just drag it to the place where you want it to display.