How to Access Wi-Fi on an Android Phone
Wi-Fi is the same wireless networking standard used by computers for communicating with each other and the Internet. Making Wi-Fi work on your Android phone requires two steps. First, you must activate Wi-Fi, by turning on the phone's wireless radio. The second step is connecting to a specific wireless network.
Follow these steps to activate Wi-Fi on your Android phone:
At the Home screen, press the Menu soft button.

Choose Settings and then Wireless & Networks.

Choose Wi-Fi to place a green check mark by that option.

A green check mark indicates that the phone's Wi-Fi radio is now activated.
The next step is to connect the phone to a Wi-Fi network.
Your phone may be blessed with the Power Control widget or perhaps a specific Wi-Fi widget, which you may find affixed to the Home screen.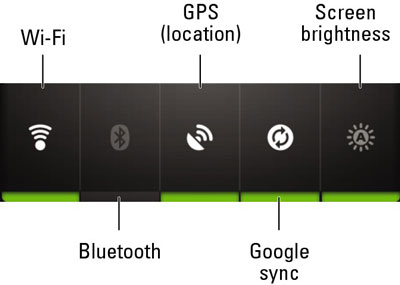 Touch the Power Control widget's Wi-Fi button to turn on the phone's Wi-Fi abilities.
To turn off Wi-Fi, repeat the steps. Doing so turns off the phone's Wi-Fi access, disconnecting you from any networks.
Using Wi-Fi to connect to the Internet doesn't incur data usage charges.
After activating the Wi-Fi radio on your Android phone, you can connect to an available wireless network. Heed these steps:
Press the Menu soft button while viewing the Home screen.

Choose Settings and then Wireless & Networks.

Choose Wi-Fi Settings.

You see a list of Wi-Fi networks displayed. If no wireless network is displayed, you're sort of out of luck regarding Wi-Fi access from your current location.

Choose a wireless network from the list.

If prompted, type the network password.

Putting a green check mark in the box by the Show Password option makes it easier to type a long, complex network password.

If the Wi-Fi network supports the WPS setup, you can connect by using the network PIN, pressing the connection button on the wireless router, or using whatever other WPS method is used by the router.

Touch the Connect button.

You should be immediately connected to the network. If not, try the password again.
When the phone is connected, you see the Wi-Fi status icon appear atop the touchscreen. This icon indicates that the phone's Wi-Fi is on — connected and communicating with a Wi-Fi network.