How to Accept a Facebook Friend Request
You see your incoming Facebook Friend Requests in any of several places, including your e-mail account, your Friends page, and your Home page. When you receive a new request, you'll also notice a little red flag appear on the friends icon to the right of the word Facebook in the big blue bar on top.
Clicking this icon opens the Friend Requests menu.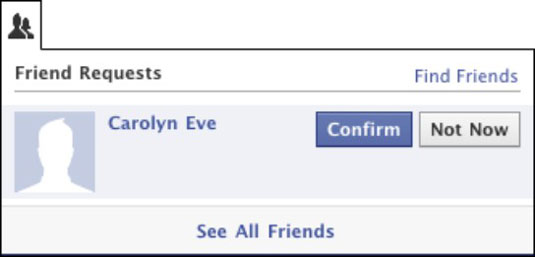 To accept the Friend Request, click the Confirm button. You now have a friend. To reject the request, click Not Now. Clicking Not Now rejects the Friend Request, but technically this request is hidden by Facebook indefinitely. In other words, if you later change your mind, you can go back to the request and accept it at a later time, or you can fully delete the request.
To get back to hidden Friend Requests, go to the Friends page from the left-side menu and click the Manage Friends button. This takes you to the Manage Friends page. From here, click the Requests item on the left. This shows you a list of outstanding requests as well as a See Hidden Requests link. Clicking this link reveals the requests, which you can then accept or delete.
You can also access hidden requests by going to the timeline of the person who sent the request. There, the Add Friend button is replaced with a link to accept the Friend Request. Click the button to become official Facebook friends.
Some people worry about clicking that Ignore or Not Now button. If you're not sure what you want to do, you can always leave the request untouched. But never hesitate to click Not Now or Ignore for someone you really just don't want to be friends with. Facebook won't notify them that you ignored their request.
Generally, you send Friend Requests to and confirm Friend Requests from only people you actually know. If you don't know them, click Not Now. Don't declare friendship unless some kind of relationship actually exists. Remember the lecture you got about choosing good friends when you were in high school? It's every bit as true now.
If there are people you don't know personally, but find interesting (maybe someone you met at a conference who you think sounds interesting), you can always choose just to subscribe to their posts as opposed to adding them as a friend. This gets you the benefits of friendship without exposing your own profile to Harley and his ilk.
Another common misperception about Facebook is that it's all about the race to get the most friends. This is very, very wrong. Between the News Feed and privacy implications of friendship, aim to keep your Friend List to the people you actually care about. Now, the number of people you care about may be large or small. The average number of friends that a person has on Facebook is around 120. Does a person with 120 friends care about them all equally? Probably not. Does this mean that person is shallow? No. It means that this person is keeping up with and keeping track of all the friends who have come and gone through a lifetime. Changing jobs, schools, and locations also comes with new friends, but that doesn't displace the fact that you care about friends from your past.