How Members Can Keep Facebook Safe
Every member of Facebook can contribute to keeping Facebook a safe, clean place by reporting incidents of spam, harassment, inappropriate content, and fake timelines. No one wants anything bad to happen to you as a result of something you do on Facebook. Facebook doesn't want that. In order to ensure your own safety on Facebook, you have to make an effort to be smart and safe online.
So what is your part? Your part is to be aware of what you're putting online and on Facebook by asking yourself a few questions:
Is what I'm putting on Facebook legal or illegal?

Would I be embarrassed by someone in particular finding this information?

Will the audience with whom I'm sharing this information use it in a way I trust?
You need to be the one to choose whether displaying any given piece of information on Facebook is risky. If it's risky, you need to be the one to figure out the correct privacy settings for showing this information to the people you choose to see it and not to the people you don't.
Your part is equivalent to the part you play in your everyday life to keep yourself safe: You know which alleys not to walk down at night, when to buckle your seatbelt, when to lock the front door, and when to toss the moldy bread before making a sandwich. Add these to your list:
I use my Facebook privacy settings wisely.

I am careful about what information I expose to lots of people.
Facebook assumes that your friends aren't putting up bad stuff, but when you're looking at content of people you're not directly connected to, you should see a little Report link beneath it. This is true for Photos, Timelines, Groups, Links, Applications, Pages and more. When you click one of these links, you see the Report page.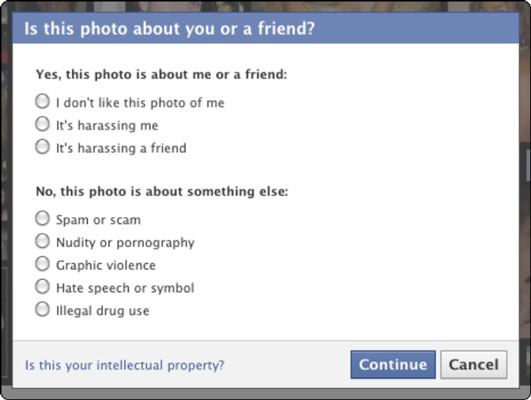 The various Report options that you see may vary, depending on what you're reporting (a message as opposed to a photo, for example). These reports are submitted to the Facebook User Operations team. The team then investigates, taking down inappropriate photos; disabling fake accounts; and generally striving to keep Facebook clean, safe, and inoffensive.
When you see content, such as an offensive group name or a vulgar timeline, don't hesitate to report it. With the entire Facebook population working to keep Facebook free of badness, you wind up with a pretty awesome community.
After you report something, Facebook's User Operations team evaluates it in terms of violating Facebook's Statement of Rights and Responsibilities. This means that pornography gets taken down, fake timelines are disabled, and people who send spam may receive a warning or even have their account disabled. However, sometimes something that you report may be offensive to you but doesn't violate the Statement of Rights and Responsibilities and, therefore, will remain on Facebook. Due to privacy restrictions, User Operations may not always notify you about actions taken as a result of your support, but rest assured that the team handles every report.