How IBS Sufferers Can Make Soaked Oats Porridge
This recipe is just one way that someone with IBS can enjoy an oatmeal breakfast, the ultimate comfort food and a universal meal that sticks to your ribs.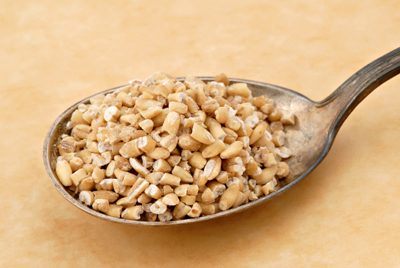 Credit: ©SharonDay 2008
Oat groats are another name for steel-cut oats.
Tools: High-speed blender (optional)
Soaking time: Overnight
Preparation time: 5 minutes
Yield: 1 serving
2 cups organic oat groats
1/4 cup dried figs
1 tablespoon walnuts
1 tablespoon shredded coconut
1 cup coconut juice or water to mix ingredients
4 ounces of coconut milk
Pinch of cinnamon or nutmeg (optional)
The night before, put the oats, figs, nuts, and shredded coconut together in a bowl and cover with water to soak overnight.

In the morning, carefully rinse the ingredients in fresh water to eliminate residue.

Put the soaked mixture in a blender or food processor with the coconut juice or water and blend until smooth.

Pour the coconut milk over the blended mixture and serve with a pinch of cinnamon or nutmeg (if desired).
For all grains (whether raw, sprouted, or cooked), vegetables, fruits, dried fruit, and nuts, use five drops of grapefruit seed extract in the soaking water to eliminate fungi and bacteria. Sensitivity to fungi, mold, and bacteria may be a major reason why some people with an already-sensitive gut can't digest grains, vegetables, or nuts.
Per serving: Calories 1599; Fat 52 g (Saturated 27 g); Cholesterol 0 mg; Sodium 40 mg; Carbohydrate 237.3 g (Fiber 37.8 g); Protein 57.4 g; Sugar 19.9 g.