How Does PayPal Work?
PayPal is a reliable payment service that allows eBay buyers to safely click and pay with a credit card, eCheck, or PayPal balance — directly from eBay — after they've won an auction or made a purchase. It's conveniently integrated into all eBay transactions, and if your auction uses the Buy It Now or Smart Logo feature, you can have buyers immediately pay for their purchases with PayPal payments.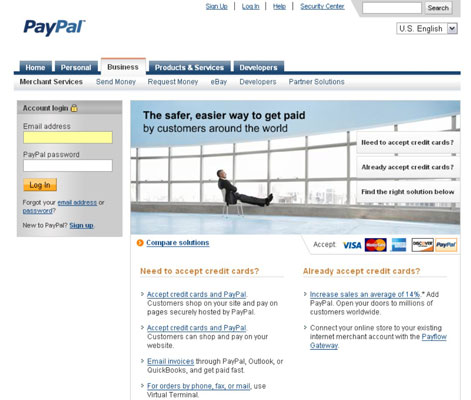 The PayPal home page, money central for eBay buyers and sellers.
You must register a special account to accept PayPal payments and you must have a premier- or business-level account to accept credit-card payments. Buyers may join when they win their first auctions and want to pay with PayPal, or they can go to http://www.PayPal.com and sign up.
The story is slightly different for the seller. For convenience, you should set up your PayPal account before you choose to accept PayPal in your auctions or sales.
Here are more than a few particulars about PayPal accounts:
eBay sales payments are deposited into your PayPal account. Choose one of several ways to get your money:

Have the money electronically transferred directly into your registered checking account.

Receive payment by check (PayPal charges $1.50 for the check).

Keep the money in your PayPal account for making payments to other sellers.

Withdraw the cash from an ATM with a PayPal debit card.

Use the PayPal debit card and get 1.5% cash back on purchases made with the card.

Shop online with a virtual MasterCard debit card that carries your balance to any Web site that accepts MasterCard.

PayPal has its own feedback system, the Seller Reputation number. The number after a user's name reflects the number of unique PayPal-verified users with which the user has conducted business. The higher the number, the more likely the user is experienced and trustworthy. Clicking the number displays a report like the one shown here.

A PayPal Member Information box.
As a seller with a premier or business account, you can choose to accept or deny a payment without a confirmed address. A confirmed address means that the ship-to address indicated by the buyer is the same as the billing address on the credit card the buyer chose to register with PayPal.

PayPal assesses your account $10 for any chargeback. The fee is waived if you've fulfilled the requirements in the PayPal seller-protection policy.

The PayPal seller protection policy protects you against chargebacks, unauthorized card use, and nonshipments. To comply with this policy, you must do the following:

Have a verified business or premier account: Allow PayPal to confirm with your bank that your checking account and address are your own.

Keep proof of shipping that can be tracked online: Here's where those delivery confirmation things really come in handy. You can also input your tracking or delivery confirmation numbers on the PayPal site, and they will send an e-mail to the buyer with that number.

Require signature receipt on items valued at more than $250.00.

Ship tangible goods: PayPal doesn't cover goods transmitted electronically.

Accept only single payments from a single account: Don't let a buyer try to pay portions of a purchase from different e-mail address accounts. Someone who's trying to pay using several accounts may be attempting to defraud you.