Google Voice on Android Phones
One good alternative for your standard voice mail is something called Google Voice. It's more than just a voice mail system: You can use Google Voice to make phone calls in the United States, place cheap international calls, and perform other amazing feats. But you most certainly can use Google Voice as the voice mail system on your Android phone.
Even when you choose to use Google Voice, setting up and configuring the boring carrier voice mail is recommended.

You may need to reset Google Voice after using call forwarding.
Configuring Google Voice for an Android phone
You need to create a Google Voice account on the Internet before you configure your Android phone for use with Google Voice. Start your adventure by visiting the Google Voice home page on the Internet.
If necessary, sign in to your Google account. You use the same account name and password you use to access your Gmail.
Your next task is to configure a Google Voice number to be used for your phone. Or, if you've just signed up for a Google Voice number, choose the options to use your existing cell phone number and select the "Lite" version of Google Voice. It sets you up with voice mail for your phone, which is the ultimate goal.
If all you want is to use Google Voice as your voice mail service, choose the option that says Just Want Voicemail for Your Cell.

Google Voice offers a host of features: international dialing, call forwarding, and other stuff.
Adding your Android phone to Google Voice
After you have a Google Voice account, you add your phone number to the list of phone numbers registered for Google Voice. You'll probably want to do this stuff on a computer, but keep your phone handy.
Click the Gear icon in the upper-right corner of the Google Voice home page, and choose the Voice Settings command from the menu.

The Voice Settings command may change its location in a future update to the Google Voice web page. If so, the purpose of this step is to access the Settings screen, where you register phone numbers for use with Google Voice.

Click the Add Another Phone link.

Work the steps to verify your phone for use with Google Voice.

Eventually, Google Voice needs to phone your cell phone. When it does, use the dialpad on your phone to type the code number you see on your computer's screen. After confirming the code number, you see your Android phone listed as a registered phone — but you're not done yet.

Click the Activate Voicemail link.

You must activate your phone for it to work with Google Voice. This step is the most important one in adding your number to Google Voice!

On your phone, dial the number you see on your computer screen, or otherwise obey the instructions to forward your busy, unanswered, or unreachable calls to the Google Voice number.

On your computer screen, click the Done button.
Your Android phone is now registered for use with Google Voice.
Getting your Google Voice messages
Google Voice transcribes your voice mail messages, turning the audio from the voice mail into a text message you can read. The messages all show up eventually in your Gmail inbox, just as though someone sent you an e-mail rather than left you voice mail. It's a good way to deal with your messages, but not the best way. The best way to handle Google Voice is to use the Google Voice app, available from the Android Market.
After the Google Voice app is installed, you have to work through the setup, which isn't difficult. Eventually, you see the app's main interface, which looks and works similarly to an e-mail program. You can review your messages or touch a message to read or play it.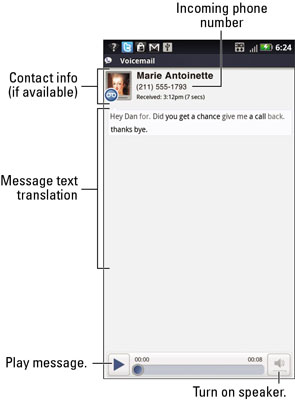 When new Google Voice messages come in, you see the Google Voice notification icon appear. To read or listen to the message, pull down the notifications and choose the item labeled Voicemail from whomever.
With Google Voice installed, you see two notices for every voice mail message: one from Google Voice and another for the Gmail message.

The Google Voice app works only after you activate Google Voice on your phone.

You can best listen to the message when using the Google Voice app. In Gmail, you see a transcript of the message, but you must touch the Play Message link to visit a web page and then listen to the message.

The text translation feature in Google Voice is at times astonishingly accurate and at other times not so good.

The text Transcript Not Available appears whenever Google Voice is unable to create a text message from your voice mail or whenever the Google Voice service is temporarily unavailable.