Gluten-Free Pumpkin Spice Bread for Those with IBS
You don't have to be gluten-intolerant to enjoy this great gluten-free recipe. But if gluten triggers your IBS symptoms, this is a tasty alternative. You can substitute 1 cup maple crystals plus f1/2 cup sucanat plus 1/2 cup brown sugar for the 2 cups of sugar.
In place of gluten-free flour, you can also try 1/2 cup brown rice plus 1/2 cup quinoa flour plus 1/4 cup each of sorghum, potato starch, tapioca flour, and millet flour. Cover the finished bread with plastic wrap and keep in the refrigerator for a week to 10 days. You can also freeze it for up to 3 weeks.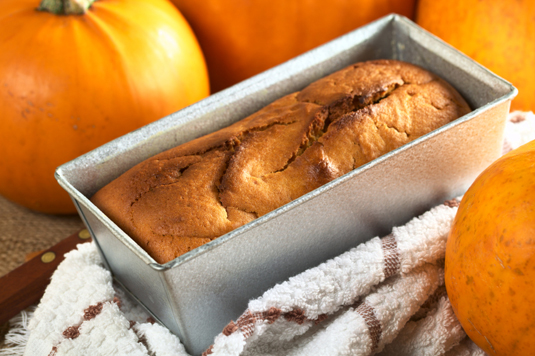 Credit: ©Ildi_Papp 2012
Tools: Parchment paper
Preparation time: 8 minutes
Cook time: 35 minutes
Yield: Sixteen 1-slice servings
3 large eggs
2 cups sugar
1/2 cup grapeseed oil
One 15-ounce can organic pumpkin
2 teaspoons vanilla
2 cups gluten-free flour
1-1/2 teaspoons xanthan gum
1 teaspoon baking powder
1 teaspoon baking soda
2 teaspoons cinnamon
1/2 teaspoon ground cloves
3/4 teaspoon nutmeg
3/4 teaspoon ground ginger
1 teaspoon sea salt
Heat the oven to 350 degrees.

Spray two loaf pans with a little olive oil, line with the parchment paper, and set aside.

Beat the eggs in a medium mixing bowl with a hand mixer until a little frothy. Add the sugar and continue to beat until smooth.

Add the oil, pumpkin, and vanilla and stir together with a spatula.

In a separate bowl, mix the remaining ingredients.

Add the dry ingredients to the wet and stir to mix.

Pour the batter into the prepared pans and bake for 35 minutes, turning the pans half way through. The bread is done when a toothpick or wooden skewer inserted into the middle of the loaf comes out clean. Cool on a wire rack.
Per serving: Calories 248; Fat 8.4 g (Saturated 1 g); Cholesterol 40 mg; Sodium 270 mg; Carbohydrate 40.5 g (Fiber 2.1 g); Protein 3 g; Sugar 27.7 g.