For Seniors: How to Connect the Monitor, Keyboard, and Mouse
After you unpack your new computer, you may need help with its setup. Your computer comes with a monitor, keyboard, and mouse. You should connect these items before you turn on your new computer.
Your computer will offer several types of connection ports, but USB ports are becoming the most common. Wireless keyboards and mouses use a small transmitter that you insert into a USB port, for example.
Use the following table in conjunction with the figure to identify device-to-PC connector ports.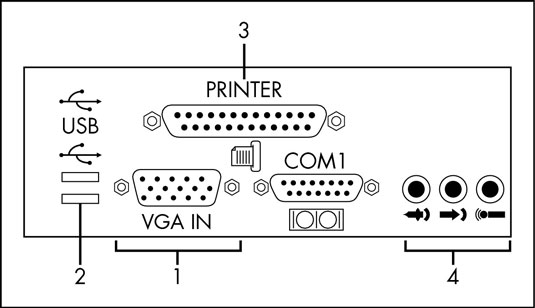 | Connection | Location | What It's Good For |
| --- | --- | --- |
| VGA port | 1 | Connect your monitor. |
| USB port | 2 | Connect various USB devices, such as a digital camera. |
| Parallel port | 3 | Connect a non-USB printer. |
| Audio | 4 | Connect speakers. |