For Seniors: Explore Twitter
Twitter is a microblogging service that lets you see the ideas, opinions, news, and happenings of the people you know or admire. Twitter also lets you share your thoughts and ideas as well. Although tweets (Twitter messages) are limited to 140 characters, you'll be surprised how much you can share.
After you join Twitter, you create a profile and gain followers who can read your tweets. You can also follow others. Twitter provides an easy way to get quick updates on what your friends or family members are doing, or to follow a public figure or celebrity's activities and thoughts.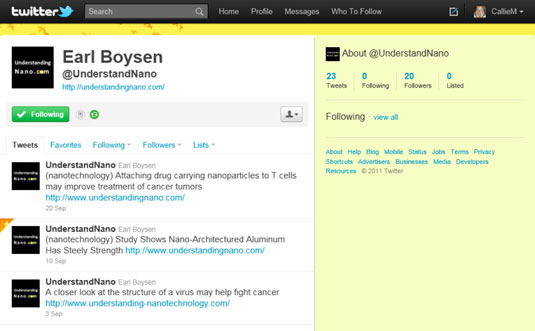 You don't have to send your own tweets to join and enjoy Twitter.
You can also set up Twitter on your mobile phone and get notifications when people you're following post new messages (tweets). You can include location information with your tweets, share photos and videos, and add web links so your followers can read online stories or detailed information on the topic you're tweeting about. Adding web links is a good way to get around the limited characters allowed in a tweet and provide detailed information.