Find Your Way Around Cyberspace from Your iPad
You can navigate the Internet on your iPad with links and tabs. If you have a third-generation iPad, you also can use iCloud Tabs, a feature that lets you resume reading web pages that you started looking at on other devices.
Looking at lovable links
Because Safari functions on the iPad the same way that browsers work on your Mac or PC, links on the device behave in much the same way.
Text links that transport you from one site to another are typically underlined or shown in blue, red, or bold type, or merely as items in a list. Tap the link to go directly to that site or page.
Tapping other links leads to different outcomes:
Open a map: Tapping a map launches the Google Maps application.

Prepare an e-mail: Tap an e-mail address, and the iPad opens the Mail program and prepopulates the To field with that address. The virtual keyboard is also summoned so that you can add other e-mail addresses and compose a subject line and message. This shortcut doesn't always work when an e-mail address appears on a web page.
To see the URL for a link, press your finger on the link and hold it there until a list of options appears.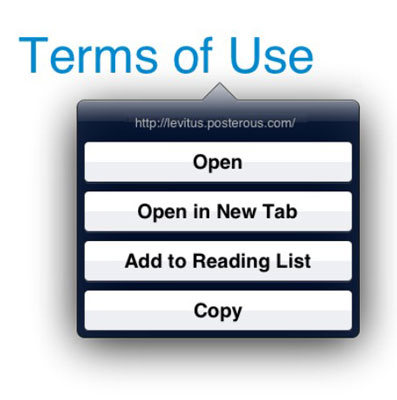 Use this method also to determine whether a picture has a link. Just hold your finger down on the picture, and if it's linked, you see the web address the link points to.
As for the other link options shown, here's what two of them do:
Open: Opens the page in this tab.

Copy: Copies the link's URL to your iPad's Clipboard so that you can paste it elsewhere.
Not every web link cooperates with the iPad. As this book goes to press, the iPad doesn't support some common web standards — most notably, Adobe Flash video. If you see an incompatible link, nothing may happen — or a message may appear, asking you to install a plug-in.
Tabbed browsing
When you surf the web on a Mac or PC, you rarely go to a single web page and call it a day. In fact, you often have multiple web pages open at the same time. Sometimes, you might choose to hop around the web without closing the pages you visit. Sometimes, a link automatically opens a new page without shuttering the old one.
(If these additional pages are advertisements, this isn't always welcome.)
Safari on the iPad lets you open up to nine pages simultaneously, but the iOS 5 and 5.1 versions dumped the awkward multipage interface and gained instead a brilliant rendition of tabbed browsing similar to the desktop version of browsers like Safari. iOS 6 works the same way.
After you have one page open, here are two ways to open additional web pages in Safari so that they appear on the tab bar at the top of the screen (rather than replacing the page you're currently viewing):
Tap the + button on the right side of the tab bar near the top of the screen. A blank tab named Untitled will appear. Now type a URL, tap a bookmark, or initiate a search, and it will appear in this tab.

Hold your finger on a link until a list of options appears, and then tap Open in New Tab.
To switch tabs, just tap the tab. To close a tab, tap the gray X that appears on the left edge of the active tab.
iCloud Tabs
Though the iPad is your likely traveling companion just about everywhere you go, you also probably browse the web from your smartphone or personal computer. If that smartphone happens to be an iPhone and the computer is a Macintosh, you can take advantage of iCloud Tabs, a feature that lets you resume reading web pages that you started looking at on those other devices.
It works with the iPod touch, too. To access iCloud Tabs, tap the icon that resembles a cloud near the upper-left corner of Safari.
A window appears, revealing the tabs still open on your other devices. Tap the tab you want to return to on the list.