Find a Lost or Stolen Mac with the Find My Mac Feature
If your Mac is ever lost or stolen, you may be able to locate it with a feature called Find My Mac. The Find My Mac feature (a variant of the similar Find My iPhone feature) increases the odds that you'll get a lost machine back by mapping its location.
Make sure that the feature is selected in iCloud Preferences. Then, if your machine ever does go AWOL, just sign in to iCloud from any web browser or from the Find My iPhone app on an iPhone or iPad. Next, click Find My iPhone −yes, that's what it is called, even though you're on a search mission for your Mac.
In a web browser, you see a map like the one shown here. Each of the green droplets on the map indicates the location of one of your devices − at least its location as close as Apple can pinpoint it.
Click the Devices button in the upper-left corner of the screen to see a list of all the devices that you've set up to work with Find My iPhone (or Mac and so on). Hopefully, the computer you're looking for won't be offline. If found, click the Mac in the list, which summons a window like the one shown in the top-right corner of the map.
But now what are you going to do? How do you alert the Good Samaritan (or crook) who has your machine that you want it back? Your first option is to sound an alarm on your missing Mac, by clicking Play Sound in the small window.
But this is really only useful if the missing Mac is actually in your house. (It's a feature that was really designed for such scenarios as an iPhone getting concealed under the cushions of your couch.) An alarm is useless if the person doesn't know how to get in touch with you to return it.
Instead, click Lock. This will let you lock the machine so that the person can't look at any of your private or sensitive information. Using the keypad that appears, enter a six-digit passcode (that you can easily remember) to unlock the computer when and if you do get it back.
You have to confirm the passcode by entering it a second time. Once you do that, you are provided space to type an optional message that will appear on the lock screen that you hope will persuade the person who has your computer to return it. Offering a reward is not out of the question (unless you're dealing with a thief who is unlikely to cooperate anyway).
Click the Lock button when done typing the message. You'll receive a confirmation e-mail.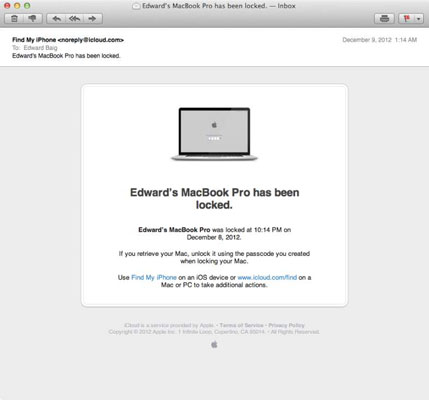 If you come to the conclusion that the machine was indeed stolen, or that the person who now has it has no intention of giving it back, click Erase Mac from Find My iPhone to wipe the contents and settings on the computer clean.
Given that this is a pretty major step, Apple requires you to enter your Apple ID before proceeding. Erasing the Mac can take up to a full day to complete.